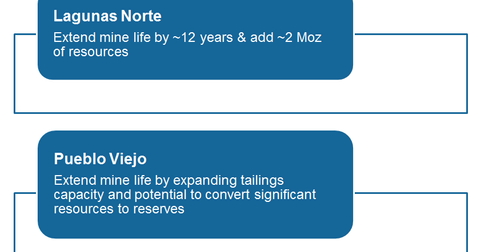 Barrick Gold Studies How to Add Upside to Reserves
By Anuradha Garg

Updated
Two assessments completed
Barrick Gold (ABX) has completed the preliminary economic assessment, or PEA, on projects that have the potential to extend the mine life at Lagunas Norte and Pueblo Viejo. A PEA is an early-stage feasibility study conducted to assess the economic, technical, and geographical viability of a project. This is to determine if the mining project is ready to go forward. A pre-feasibility study, or PFS, is the next, more detailed, stage. In this article, we'll discuss two PEAs conducted by Barrick and what potential they represent for the company.
Article continues below advertisement
Lagunas Norte
According to Barrick Gold's management, this mine has been operational since 2005 and has outperformed the company's production expectations. At its peak, it produced more than 1 million ounces of gold annually.
This mine will transition from heap leaching oxide ore to mixed oxide as it nears the end of its current mine life in 2018. A PEA was done to determine the possibility of extending its mine life by approximately 12 years. This would be done by mining the refractory ore below the oxide ore body. Since this ore cannot be processed with heap leaching, the plan is to add a new grinding flotation autoclave to treat the material.
The PFS is now underway. If all goes well, the extension has the potential to add close to 2 million ounces to the company's gold resources.
Pueblo Viejo
A PEA is being conducted at the Pueblo Viejo mine to determine the feasibility of extending the mine life by expanding its storage capacity and modifying its fuel and power supply arrangements. If completed, these modifications should allow a significant portion of 6 million ounces of gold and 37 million ounces of silver resources to be converted into reserves. A PFS should be commissioned at the second half of 2016 to complete a more detailed analysis.
Though it's too early to say yet if these projects will provide any upside, positive study results would be a good outcome for Barrick Gold. To offset the impact of divestments, Barrick needs upside in its reserves, either from mine extensions or from acquisitions.
Article continues below advertisement
Newmont Mining (NEM) has upgraded its 2015 production guidance for gold from 4.6 million to 4.9 million ounces to 4.7 million to 5.1 million ounces, to reflect its recent acquisitions. Goldcorp (GG), on the other hand, has maintained its production guidance toward the high end of 2015 guidance for 700,000 to 750,000 ounces.
Investing in gold
Investors who don't want to pick up individual companies can invest in gold miners through the VanEck Vectors Gold Miners ETF (GDX). This ETF invests in senior and intermediate gold miners. Newmont forms 6.4% of GDX's holdings. The SPDR Gold Trust (GLD), on the other hand, provides exposure to spot gold prices.