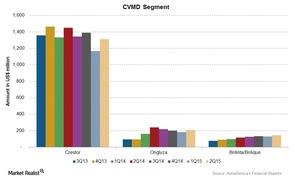 AstraZeneca's CVMD Segment: How Did It Perform in 2Q15?
By Mike Benson

Updated
Cardiovascular and metabolic diseases segment
The cardiovascular and metabolic diseases (or CVMD) segment is AstraZeneca's (AZN) largest contributor of revenues. CVMD contributed nearly 37.5% of total revenues in 2014 and ~42% at $2.45 billion in 2Q15. CVMD is comprised of key drugs including Crestor, Onglyza, and Brilinta.
Article continues below advertisement
Crestor
Crestor, a statin for dyslipidemia and hypercholesterolemia, is used to reduce cholesterol and triglycerides in the blood. It contributes more than 50% of revenues for this segment and more than 20% of AstraZeneca's total revenues. Crestor is expected to lose its exclusivity in May 2016 for US markets, which currently contribute more than 50% of Crestor's total sales.
After May 2016, AstraZeneca expects to lose major market share of Crestor to generic competitors. Since this may be a major negative factor for the company's revenues, AstraZeneca is working on new product development and marketing.
Crestor's competitors are Lipitor from Pfizer (PFE), Zocor from Merck & Co. (MRK), Advicor from Abbott Laboratories (ABT), and Pravachol from Bristol-Myers Squibb (BMY).
Onglyza
Onglyza is used in diabetes to control blood sugar levels. Onglyza sales improved by 4% globally, driven by European and emerging markets. However, a 16% decline in sales in US markets partially offset Anglyza's overall performance. This decline in US markets was due to concerns over the safety profile of this drug, according to the FDA (Food and Drug Administration) report.
Brilinta
Brilinta is used to prevent blood clots in heart and blood vessels. Its revenue has improved every quarter for the last two years. Brilinta's revenue grew ~10% on a quarter-over-quarter basis and more than 23% on a year-over-year basis. AstraZeneca expects the drug to be a blockbuster. The company has also obtained US priority review for this drug to be used to treat post-myocardial infarction, or post-heart-attack conditions, and may be marketed the next quarter onward.
New drugs in the CVMD segment include Farxiga and the Bydureon Pen. Bydureon revenues improved 29% at the constant exchange rate in 2Q15 compared to 2Q14. Farxiga is a new drug with revenues of $129 million for 2Q15.
Investors can consider ETFs like the Health Care Select Sector SPDR ETF (XLV) or the VanEck Vectors Pharmaceutical ETF (PPH) in order to avoid risks. PPH holds 4.54% of its total investments in AstraZeneca.