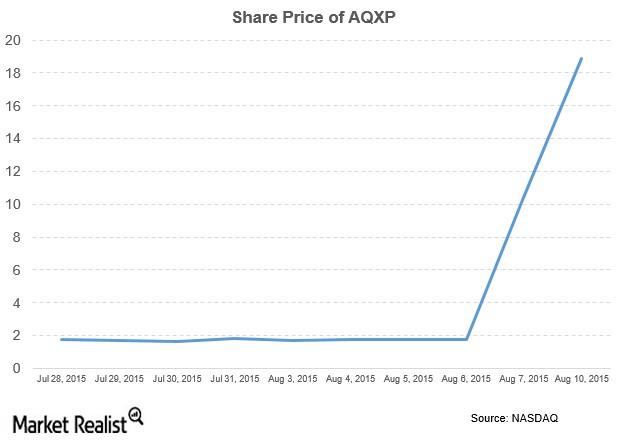 Aquinox's Journey from the Bottom to the Top
Aquinox stock price rises
Aquinox Pharmaceuticals (AQXP) has outperformed the market. The company has seen growth driven by a positive results from second phase testing of its drug AQX-1125. As per the 2Q15 earnings report, the company's net income has gone up by 25.9% as compared to the 1Q15 earnings of 20.76%.
As we can see from the graph below, Aquinox's stock price has increased tremendously within a day. It moved to $10.42 from $1.79 because of positive results of phase two clinical trials and an increase in net income due to the reduction in liabilities and research and development expenses.
Article continues below advertisement
Aquniox Pharmaceuticals overview
Aquinox Pharmaceuticals (AQXP) is a clinical stage pharmaceutical company. Its main focus is on disease areas of inflammation and immune-oncology. It has developed AQX-1125 and successfully completed phase one trials of this product. AQX-1125 is a small molecule activator of SH2-containing inositol-5-phosphatase 1, which is a regulating factor of the P13K cellular signaling pathway.
As per the company, there are a large number of cases of chronic obstructive pulmonary disease (or COPD) and exacerbations in the US. The oral anti-inflammatories can reduce exacerbation.
AQXP's business segments
The company has completed successful testing for its phase two clinical trials on drugs for bladder pain syndrome/interstitial cystitis, chronic obstructive pulmonary disease (or COPD), and atopic dermatitis.
Some large-cap companies have beaten market expectations in 2Q15 earnings like GlaxoSmithKline (GSK), Pfizer (PFE), Novartis (NVS), AstraZeneca (AZN), and Regeneron Pharmaceuticals (REGN). Investors who want exposure to pharmaceutical companies can consider the iShares Nasdaq Biotechnology ETF (IBB).
In the next article, we'll look at various factors that have increased the profitability of the company.