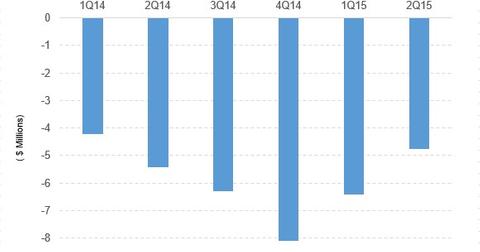 Aquinox Improves Net Income with New Discoveries
By Gabriel Kane

Aug. 24 2015, Published 1:50 p.m. ET
The rise in Aquinox's net income
Aquinox Pharmaceuticals (AQXP) has achieved success in the field of discovery and development of new drugs. This success helped in increasing Aquinox's net income and cash as well as in reducing costs and liabilities.
Article continues below advertisement
Research and development
With the positive results of product development, expenses are going down. Research and development (or R&D) expenses have followed the same trend in 2Q15 as in 1Q15. In its 1Q15 earnings, R&D expenses fell by 27.80%. In 2Q15, R&D expenses fell by 20.75%.
This drop in R&D expenses led to a reduction in the company's liabilities and also cut down its debt and risk by 19.83%. As of now, the company is in the development stage, so its current net income is a negative number. As we have seen in the previous article, Aquinox's net income has increased in 2Q15 by 25.9%. The company is trying to achieve a positive number by getting past its break-even point. Reduced expenses and liabilities can help in increasing Aquinox's net income, which in turn increases reserves and reduces the risk. Reduced expenses and liabilities also motivate stockholders to invest a large amount to reduce the debt-to-equity ratio, which is currently 0.15.
Aquinox has a current ratio of 7.47 in 2Q15, which is quite high as compared to large-cap companies like AstraZeneca (AZN) at 0.86, GlaxoSmithKline (GSK) at 1.31, Pfizer (PFE) at 2.14, and Regneron Pharmaceuticals (REGN) at 3.80. It Aquinox continues to improve its performance, it can increase or maintain its current ratio.
AQXP with IBB ETF
The iShares Nasdaq Biotechnology ETF (IBB) tracks the performance of a cap-weighted index of biotechnology and pharmaceutical companies listed on the Nasdaq National Market.