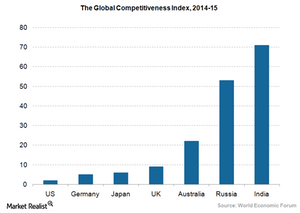 Apple's iPhone Manufacturer Foxconn to Invest $5 Billion in India
By Puneet Sikka

Updated
Foxconn's $5 billion investment in India
Foxconn is officially known as Hon Hai Precision Industry. It manufacturers smartphones and tablets for mobile device players like Apple (AAPL), Samsung (SSNLF), and Xiaomi. Recently, it announced its intention to invest $5 billion over the next five years in India to set up factories and R&D (research and development) centers.
This is great news for India's (EPI) manufacturing sector. It hasn't received enough investments due to India's lack of good infrastructure, high land prices, and unfavorable tax policies. These issues have led to a fall in India's competitiveness in the world.
According to a report from the World Economic Forum and as the above chart shows, India lags behind the US, Germany, Japan, the United Kingdom, Australia, and even Russia in the Global Competitiveness Index. India's was ranked 71 in 2014–2015. It fell from the rank of 60 that it held in 2013–2014.
Article continues below advertisement
India's tax laws aren't favorable
To give an example of India's lack of competitiveness, last year Nokia (NOK) shut down its phone manufacturing unit in India. It was hit with a huge tax bill when it was in the process of selling its mobile phone business to Microsoft (MSFT). Another instance of tax laws being inconsistent was when Vodafone (VOD) bought a controlling stake in Hutchison in India. India's tax authorities demanded $2.5 billion in taxes from Vodafone, but the company fought against it. Vodafone ultimately won the case, but it had already created a lot of controversies.