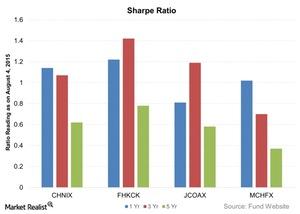 Analyzing Risk-Adjusted Returns of Four China-Focused Mutual Funds
By Lynn Noah

Nov. 20 2020, Updated 3:36 p.m. ET
Risk-adjusted returns
All investment vehicles come with a certain amount of risk attached. Risk-adjusted return is a concept that can be used to determine how much return an investment can provide with the given level of risk associated with it.
Some of the widely used risk-adjusted return measures are the Sharpe Ratio, the Treynor Ratio, and Jensen's Alpha. In this article, we will look at the Sharpe Ratio.
Article continues below advertisement
What is the Sharpe ratio?
For realized returns, the Sharpe ratio assesses the average return over a risk-free asset or security (like US Treasuries of a certain maturity) over total risk, as represented by standard deviation.
Standard deviation
Standard deviation is widely used for assessing risks associated with an investment. Simply put, it measures the deviation of a series of returns from its average. The wider the deviation, the higher the risk, and vice versa.
The Sharpe Ratio of China-focused mutual funds
For the one-year ended August 4, 2015, the Fidelity China Region Fund Class C (FHKCX) turned out to be the best performer on this front with a Sharpe Ratio of 1.2. The fund gives you exposure to large Chinese companies like 58.com (WUBA), Yoku Tudou (YOKU), Ctrip.com International (CTRP), Bona Film Group (BONA), and Qunar Cayman Islands (QUNR).
Meanwhile, the John Hancock Greater China Opportunities Fund Class A (JCOAX) fared the worst with a reading of 0.8. The Clough China Fund Class I (CHNIX) stood at 1.1, while the Matthews China Investor Class (MCHFX) had a Sharpe ratio of 1.0.
For the three-year period ended August 4, 2015, the FHKCX continued to dominate its peers with a Sharpe ratio of 1.4. The MCHFX fared the worst with a reading of 0.7. The JCOAX had a Sharpe ratio of 1.2, while the CHNIX's Sharpe ratio read 1.1 over the period.
Thus, the FHKCX stood out as the clear winner as far as risk-adjusted performance is concerned. Now let's look at the funds' portfolio composition.