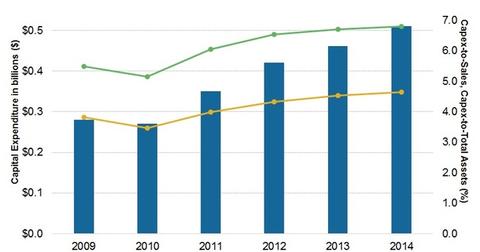 Analyzing Why Estée Lauder's Capital Expenditure Is Rising
By Penny Morgan

Updated
Estée Lauder's capex versus that of peers
Estée Lauder (EL) is a US-based cosmetics company with a global reach. The company's net cash flow from investing activities for fiscal 2014[1. Fiscal year ending June 30, 2014] came in at $0.51 billion in fiscal 2014, compared to $0.46 billion in fiscal 2013. The increase in investment expenditure was primarily due to higher capital expenditure.
Article continues below advertisement
Higher capital expenditure
Estée Lauder's capital expenditure as a percentage of net sales came in at 4.7% in fiscal 2014 compared to 4.5% in fiscal 2013. Capital expenditure increased 10.6% to $0.5 billion for fiscal 2014. The increase was primarily due to leasehold improvements and counters. Competitors L'Oréal (LRLCY) and Procter & Gamble (PG) reported capital expenditures as a percentage of net sales of 4.5% and 4.8%, respectively, for fiscal 2014. To learn more about P&G's investment strategies, read "Procter & Gamble's Efforts to Reduce Capex."
Skincare and makeup are the most profitable product categories for EL. Hence, higher investment spending behind these products remains the company's strategic priority. Peers Coty (COTY) and Unilever (UL) also reported an increase in capital expenditure as a percentage of sales. Coty's and Unilever's capex-to-sales came in at 4.4% and 3.9%, respectively, in fiscal 2014.
Growth in emerging markets
Esteée Lauder's products are mostly for affluent buyers. Due to the lack of high-end department stores especially in emerging markets, the availability of EL's products becomes difficult. The company's focus is to spend more capital on freestanding stores in emerging markets particularity in the Asia Pacific region.
Estée Lauder also aims to spend more on brands and media formats that are likely to have a more positive impact on skincare and makeup product sales.
EL and PG both have exposure in the iShares S&P Growth ETF (IVW) with 0.1% and 1.1%[2. Updated August 6, 2015], respectively, of the total weight of the portfolio.