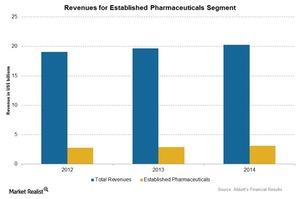 Analyzing Abbott's Established Pharmaceutical Segment
By Mike Benson

Updated
Established pharmaceutical
As we discussed earlier, Abbott Laboratories (ABT) is a US pharmaceutical company. It deals in pharmaceutical and healthcare products. The established pharmaceutical products segment deals with a broad line of branded generic pharmaceutical products. This segment contributed $3.1 billion, or ~15.40%, of the total revenue in 2014. It contributed $2.9 billion, or ~14.60%, of the total revenue in 2013 and $2.8 billion, or ~14.10%, of the total revenue in 2012. The key therapeutic areas include:
gastroenterology
women's health
cardiovascular and metabolic diseases
pain and central nervous system
respiratory drugs and vaccines
Article continues below advertisement
Key products
Abbott is focused on building a country-specific portfolio made up of global and local pharmaceutical brands that will meet patients' needs in each country. Currently, there are more than 300 branded generic development projects that are active in one or several emerging markets. The company is also working on development plans for several key brands like Creon, Duphaston, and Influvac.
Creon is a pancreatic exocrine supplement, classified in Abbott's gastroenterology franchise. The drug is used by people whose bodies don't make enough enzymes for digestion. Some of Abbott's other gastroenterology products include Duspatal, Dicetel, Heptral, Transmetil, Samyr, Donamet, and Duphalac.
Duphaston contains dydrogesterone—a synthetic hormone similar to the naturally occurring sex hormone. It's classified under the women's health franchise. It helps maintain pregnancies. Femoston is another important drug in the women's health franchise.
Influvac, a trivalent subunit influenza vaccine, is classified under the immunology franchise. It's used to prevent influenza infection caused by the specific strains contained in the vaccine. The three different strains contained in the vaccine are the H1N1 virus, H3N2 virus, and Influenza B virus.
Research and development
This segment doesn't actively pursue primary research. However, the development usually begins with work on existing products or after the acquisition of an advanced stage licensing opportunity.
Other companies like Pfizer (PFE), GlaxoSmithKline (GSK), Sanofi (SNY), Bristol-Myers Squibb (BMY), and AstraZeneca (AZN) compete with Abbott in different therapeutic areas. The Health Care Select Sector SPDR ETF (XLV) has invested ~2.30% in Abbott.