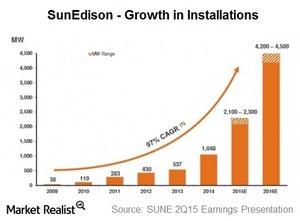 Why Analyze FirstSolar and SunEdison's 2Q15 Earnings Together?
By Mike Sonnenberg

Aug. 24 2015, Published 2:26 p.m. ET
The parallels
FirstSolar (FSLR) and SunEdison (SUNE) have a lot in common. Both these companies earn over half of their total revenues from building solar power plants. Both these companies are industry leaders with expertise in utility-scale power plants. FirstSolar (FSLR) was the largest American solar power company as of August 12 with a market capitalization of $5.2 billion, followed by SunEdison (SUNE) at $4.5 billion. Both these companies have their own yieldcos, SunEdison's TerraForm Power (TERP) and TerraForm Global (GLBL) and FirstSolar's (FSLR) 8point3 Energy (CAFD), jointly with SunPower (SPWR).
Article continues below advertisement
The differences
Despite the parallels, the companies operate very differently. While FirstSolar procures most of the solar panels required for its power plant segment internally, SunEdison (SUNE) taps external vendors such as Flextronics (FLEX) to procure solar panels. Plus, SunEdison (SUNE) or its subsidiaries own most of the projects SUNE builds, while FirstSolar (FSLR) has a mix of its own and third-party projects. SunEdison is also more aggressive than FirstSolar, using more leverage to expand its portfolio and reach. So, looking at 2Q15 earnings together is our attempt to differentiate the two business approaches of similar companies.
About SunEdison
SunEdison develops and sells photovoltaic (TAN) energy solutions. It also develops, manufactures, and sells silicon wafers to the semiconductor industry. The company also owns and operates clean power generation assets.
The company's primary business activities are divided into its two segments: renewable energy development and TerraForm Power (TERP), the yieldco. The company has also sponsored an emerging-market yieldco, TerraForm Global (GLBL), which started trading on the NASDAQ on August 3. The company exited from the semiconductors business by selling its remaining stake in SunEdison Semiconductors Limited (SEMI).
SunEdison accounted for 4.8% of the Guggenheim Solar ETF's (TAN) total holdings as of August 12. SunEdison is also part of the broad-based S&P 500 index (SPY).