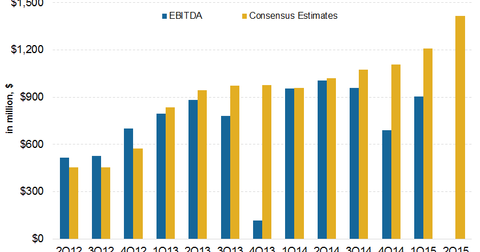 Analysts Increase Energy Transfer Partners' 2Q15 EBITDA Estimate
By Kurt Gallon

Updated
2Q15 EBITDA estimate
In the previous article, we looked at Energy Transfer Partners' (ETP) 2Q15 revenue estimates. In this article, we'll analyze ETP's 2Q15 EBITDA (earnings before interest, tax, depreciation, and amortization) estimates along similar lines. EBITDA is a broad measure of a company's operational profitability and drives distributable cash flows at a higher level.
Wall Street analysts have increased Energy Transfer Partners' 2Q15 EBITDA estimates to ~$1,417.2 million versus ~$1,208.4 million they estimated in the previous quarter—an increase of ~17.3%. The higher EBITDA estimate could be attributable to the following:
Article continues below advertisement
increased overall performance from the ETP–Regency merger completed in April 2015
increased natural gas pipelines fee revenues driven by expansion projects that entered service in late 2014 and the first half of 2015
increased fractionation margins driven by the ramp-up of Lone Star's fractionator at Mont Belvieu
Lone Star is a subsidiary of Energy Transfer Partners that provides NGL transportation, storage, and fractionation services. In May 2015, ETP announced a fourth NGL fractionation facility, which is fully subscribed by multiple long-term contracts and is expected to begin operations in December 2016.
The increase in ETP's EBITDA is expected to be offset mainly by:
decreased NGLs (natural gas liquids) and natural gas sales margins due to low NGLs and natural gas prices
decreased non-fee-based processing margins
EBITDA versus consensus estimates
Energy Transfer Partners' (ETP) 1Q15 EBITDA estimate was $1,208.4 million and its EBITDA was $905 million, a ~25.1 % miss. We'll have to wait for the 2Q15 earnings release to see whether ETP beats or misses its 2Q15 EBITDA estimates. We'll cover this in our post-earnings series for ETP.