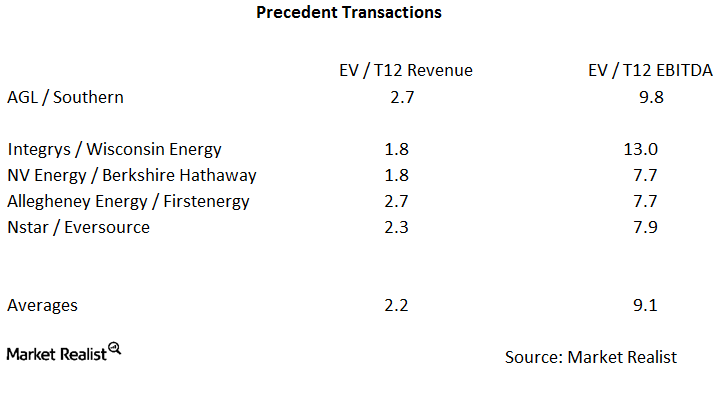 AGL Resources: Could Southern Co Be Stopped by a Bidding War?
Could this deal get competitive?
Competitive deals can make your quarter if you're a merger arbitrage professional. If you get two companies bidding against each other, a 1% gross spread can easily become 10% by the time everything is said and done. We saw that happen in the Salix Pharmaceuticals deal.
Could the AGL Resources (GAS) merger with Southern Company (SO) be broken up by an interloper?
Article continues below advertisement
Hostile deals in the utility space are rare
Given how regulated the utility space is, you rarely see hostile transactions or bidding wars. That's not to say it can't happen, but it is rare. We don't know what sort of process was run to sell the company, and we'll have to wait until the preliminary proxy statement comes out before we'll find out.
State public utility commissioners have two main goals:
minimize their constituents' electricity bills
keep the utility in business
This means they don't drive crazy bargains with rate cases, and they generally don't like to see bidding wars. The cost of goodwill—the difference between the book value of the company being bought and the actual price being paid—is generally not compensated in rate cases. As a result, commissioners tend to view goodwill as added risk.
Given this dynamic, you often see stock-for-stock transactions in the utility space. And the buyer invariably runs the transaction by the regulators first, before publicly announcing anything. Regulators hate surprises more than anyone.
Deal comparisons
Arbitrageurs will often compare the price the acquirer is paying to other deals in the same industry. This is always more art than science, since no two companies are alike, interest rate environments change, and so forth. That said, we do have several similar deals we can look at in this case:
Integrys Energy Group–WEC Energy Group
NV Energy–Berkshire Hathaway
Allegheney Energy–FirstEnergy
NStar–Eversource Energy
These transactions are about the closest comparisons we have to the AGL Resources deal. In this transaction, Southern Company is paying about 2.7x trailing 12-month revenues and 10x trailing 12-month EBITDA (earnings before interest, taxes, depreciation, and amortization). These multiples are in line with the averages in the other two transactions, which work out to be about 2.2x revenues and 9.1x EBITDA.
Other merger arbitrage resources