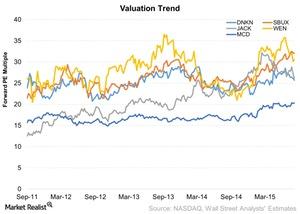 How 2Q15 Earnings Affected Dunkin' Brands' Valuation
Impact on valuation
We've already looked at Dunkin' Brands' (DNKN) 2Q15 performance. Now let's take a look at the company's valuation and analysts' growth estimates.
Article continues below advertisement
Valuation
Aside from earnings, stock price changes are also reflected or driven by changes in valuation multiples. Dunkin' Brands' valuation dropped from 26.8x before the 2Q15 earnings to 25.6x. Although analysts revised their next 12-month EPS (earnings per share) estimate down to $2.04 from 2.05 per share, stock prices fell more. The next 12-month EPS growth is now expected at 10.3% compared to 10.8% as a result of analysts' downward revision.
Historically, for the past nine quarters on an LTM (last 12 months) basis, the company's EPS has grown at an average of 12%. Analysts have estimated an average of 10.7% growth over the same period. The company has beaten analysts' estimates in six out of the nine quarters, indicating that analysts' estimates have been conservative.
The downward revision appears to be a result of negative expectations on K-Cup sales at Dunkin' Donuts stores, which pushed same-store sales growth down 0.6% during the second quarter.
The current PE (price-to-earnings) ratio of 25.6x is trading at a premium to its historical four-year PE of 24.9x. So with a decline in same-store sales growth, Dunkin' Brands' stock price may fall.
Next, we'll wrap up this series by comparing Dunkin' Brands' valuation with its peers that are included in the Consumer Discretionary Select Sector SPDR ETF (XLY). XLY holds 3% of Starbucks (SBUX), 4% of McDonald's (MCD), and 1.5% of Yum! Brands (YUM).