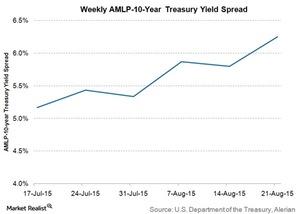 10-Year Treasury and MLP Yields Diverged Last Week
By Rekha Khandelwal, CFA

Aug. 28 2015, Updated 1:07 a.m. ET
AMLP yields in the week
The Alerian MLP ETF (AMLP) traded at a yield of 8.3% at the end of the week ending August 21. The yield rose during the week from 8.00% at the end of the previous week, which ended August 14. The fall in crude oil prices and general weakness across equity markets globally drove the MLP yields up. AMLP tracks the Alerian MLP Infrastructure Index (AMZI)—a subset of the Alerian MLP Index (AMZ).
AMLP constituents sensitive to commodity prices such as Targa Resources (NGLS), DCP Midstream Partners (DPM), and NGL Energy Partners (NGL) traded at higher yields at the end of the week due to the fall in oil prices. Upstream MLPs, such as Legacy Reserves (LGCY), also traded at much higher yields compared to the previous week. NGL forms ~1% of the First Trust North American Energy Infrastructure Fund (EMLP).
Article continues below advertisement
Ten-year Treasury yields
US ten-year Treasury yields fell to close at 2.05% on August 21. They traded at a yield of 2.20% the previous week. Uncertainty relating to a rate hike in September affected yields during the week. Concerns relating to Chinese economic growth, a decline in crude oil prices, and declining long-term inflation expectations contributed to the fall in yields.
As the Treasury yields fell with a simultaneous rise in the AMLP yield, the spread between the two increased, as you can see in the above graph.
MLP and Treasury yields
Generally, MLP yields—in this case represented by AMLP—move in the same direction as Treasury yields in the long term. MLP yields trade at a spread over Treasuries, as investors expect a risk premium for the additional risk undertaken over risk-free Treasuries.
In the long term, if Treasury yields fall, assuming there isn't a change to the spread, energy MLP yields should also fall. This could mean a rise in MLP unit prices. A decline in yields means cheaper credit availability for an MLP to fuel growth. An expansion or contraction of the spread between MLP and Treasury yields would imply a higher or lower risk perception for an MLP, respectively.
Apart from interest rates, a number of other factors—like commodity prices and demand for NGL (natural gas liquid) products—affect an MLP's yield. The continued decline in energy prices recently has caused MLP yields to generally rise, independently of the movements in Treasury yields. So, the current widening of the AMLP–ten-year Treasury spread reflects a more fearful environment in the midstream energy sector.