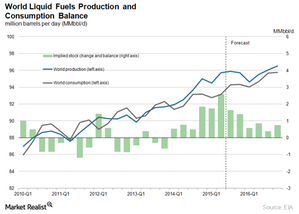 Will Saudi Arabia's Crude Oil Production Hit 11 MMbpd in 2016?
By Gordon Kristopher

Updated
Top oil producers
In June 2015, OPEC (Organization of the Petroleum Exporting Countries) produced 32.13 MMbpd (million barrels per day) of crude oil—the highest level since August 2012. OPEC's largest crude oil producer is Saudi Arabia. It produced 10.6 MMbpd of crude oil in June 2015—up by 20,000 bpd (barrels per day) from April 2015, according to OPEC's monthly report. This is Saudi Arabia's highest crude oil output. At this production pace, it could hit 11 MMbpd. Saudi Arabia and OPEC will continue to produce more crude oil to defend its market share and offset the lower crude oil prices
Likewise, the US produced 9.604 MMbpd for the week ending July 3, 2015—the highest since the 1970s. The EIA (U.S. Energy Information Administration) estimates that the US output is expected to rise to 9.47 MMbpd in 2015 and slow down to 9.32 MMbpd in 2016.
Article continues below advertisement
Oil market glut
To add to the glut, Iran has 17 MMbbls of crude oil inventories ready to hit the oil market as soon as the oil sanctions are lifted, according to IEA (International Energy Agency) sources.
Russia produced 10.71 MMbpd of crude oil in June 2015 for the fourth straight month. Russia is producing more crude oil in order to offset lower crude oil prices.
Oil prices fell more than 50% since the mid week of June 2014 due to oversupply concerns. The massive fall in crude oil prices resulted in delays and cancellations of various oil exploration and production projects. Since 2014, only six major projects have received the green light—compared to the average of 20 projects from 2002 to 2013, according to Deutsche Bank estimates. Oil companies across the world have cut $130 billion on oil exploration and production for 2015, according to estimates from Wood Mackenzie.
The slowing investments into new oil projects will slow down global production, but OPEC may continue its mammoth production. The consensus of improving consumption in 2016 will narrow down the supply and demand gap. We could see stability in oil prices.
The stability in oil prices benefits oil producers like Occidental Petroleum (OXY), Chevron (CVX), and Range Resources (RRC). Combined, they account for 17.42% of the Energy Select Sector SPDR ETF (XLE). Their oil production mix is greater than 54% of their total production. ETFs like the SPDR S&P Oil & Gas Exploration & Production ETF (XOP) and the Select Sector SPDR Fund ETF (XLE) also benefit from stable crude oil prices.