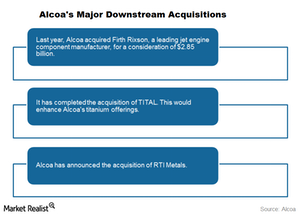 How Will Alcoa's Downstream Business Play Out?
Alcoa's downstream business
In the previous part, we saw the steps Alcoa (AA) has taken to strengthen its upstream business. These measures will help improve Alcoa's position on the global cost curve. However, Alcoa and other primary producers like Rio Tinto (RIO), Century Aluminum (CENX), and Vale (VALE) don't have much control over aluminum prices. This makes Alcoa's share price vulnerable to the volatility in aluminum prices.
Article continues below advertisement
Alcoa's major acquisitions
As we already saw, the all-in aluminum price, which includes aluminum prices as well as physical premiums, has fallen steeply this year. Alcoa has been strengthening its downstream business by making multiple acquisitions to grow its value-added business.
The above chart shows the major acquisitions Alcoa has made. The full impact of these acquisitions will be visible in Alcoa's earnings in the next few quarters.
Earlier this year, Alcoa announced the acquisition of RTI Metals (RTI). Alcoa currently forms 2.46% of the Materials Select Sector SPDR ETF (XLB).
Alcoa's aerospace offering
Alcoa's acquisitions have enhanced the company's ability to serve the fast-growing aerospace industry. The demand for commercial aircraft is growing at a steady pace, and all major aircraft manufacturers are running their production at full throttle to meet pending orders.
Alcoa is also investing in newer technologies and products. It has opened the world's largest aluminum-lithium facility in Indiana. This facility will produce components for the aerospace industry.
These measures should add shareholder value over the long term. Alcoa should also benefit from strong end user demand. In the next part, we'll see how Alcoa's end markets are shaping up this year.