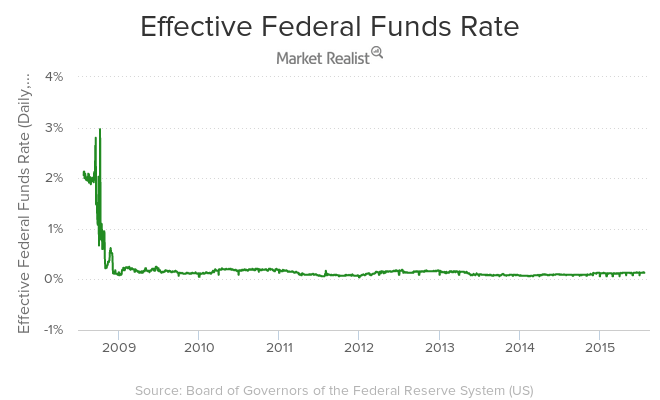 What's the Semiannual Humphrey-Hawkins Testimony?
By David Ashworth

Jul. 27 2015, Published 1:56 p.m. ET
What's the testimony?
According to a legislation, the FOMC (Federal Open Market Committee) is required to report to Congress on the economic situation and the monetary policy stance. This report is prepared twice a year—in February and in July. The legislation in question is known as the "Humphrey-Hawkins Act."
The legislation—named after Senator Hubert Humphrey and Representative Augustus Hawkins—was known as the "Full Employment and Balanced Growth Act of 1978."
Article continues below advertisement
[marketrealist-chart id=547701]
The report is known as the "Monetary Policy Report." It's accompanied by testimony from the FOMC chief before Congress. The head of the FOMC is expected to detail the main findings of the report. Then, questions are put to the chairman by members of Congress. The testimony is given to two committees—the House Banking Committee and the Senate Banking Committee.
The legislation expired in mid-2000. However, the practice of issuing the Monetary Policy Report twice in a year continues, along with the FOMC Chairman testifying before the two Committees. The report is still called the "Humphrey-Hawkins Report," even though officially it isn't.
Janet Yellen's testimony
Janet Yellen, Chair of the Federal Reserve, testified before the two committees on July 14–15, 2015. Market participants were clued-in to what she had to say regarding the path that the Fed intends to follow for the highly anticipated rate hike.
Hints on the timing of a rate hike are keenly watched by both equity (SPY) and fixed income (IEF) market participants. For equities, stimulus measures have been a big help, especially to utilities companies like Dominion Resources (D), Southern Company (SO), and NextEra Energy (NEE).
In this series, we'll look at what Janet Yellen had to say about the path of monetary policy and various aspects of the US economy, in tandem with the Monetary Policy Report.