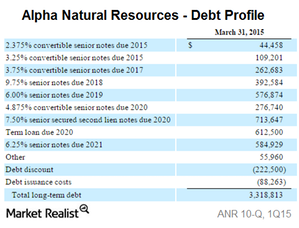 What's Next for Walter Energy?
By Mike Sonnenberg

Nov. 20 2020, Updated 5:10 p.m. ET
The road ahead
Walter Energy's (WLTG) bankruptcy is a part of restructuring plan negotiated with its creditors. According to the plan, the ownership of Walter Energy's Alabama and Virginia assets will pass on to the senior creditors. Junior creditors will get nothing. Walter Energy's non-US operations (Canada and the UK) are not included in the plan. Because the bankruptcy is pre-negotiated, it is expected to end soon.
Article continues below advertisement
The current available cash ($434.7 million as of March 31, 2015) will be used to continue operations during the proceedings. The bankruptcy will reduce the company's debt substantially, helping it achieve a leaner capital structure. Walter Energy may become leaner operationally due to additional mine closures and production curtailments.
Who else is in the bankruptcy line?
On Wednesday, July 15, the Wall Street Journal reported that Alpha Natural Resources (ANR) may file for bankruptcy as early as next month. The Wall Street Journal added that the company is trying to obtain a loan to survive during the bankruptcy proceedings. The company has been taking harsh measures such as idling mines and curtailing production for the past few quarters.
Arch Coal (ACI) is another financially stressed and highly leveraged coal producer that may be running out of options in the current troubled industry environment.