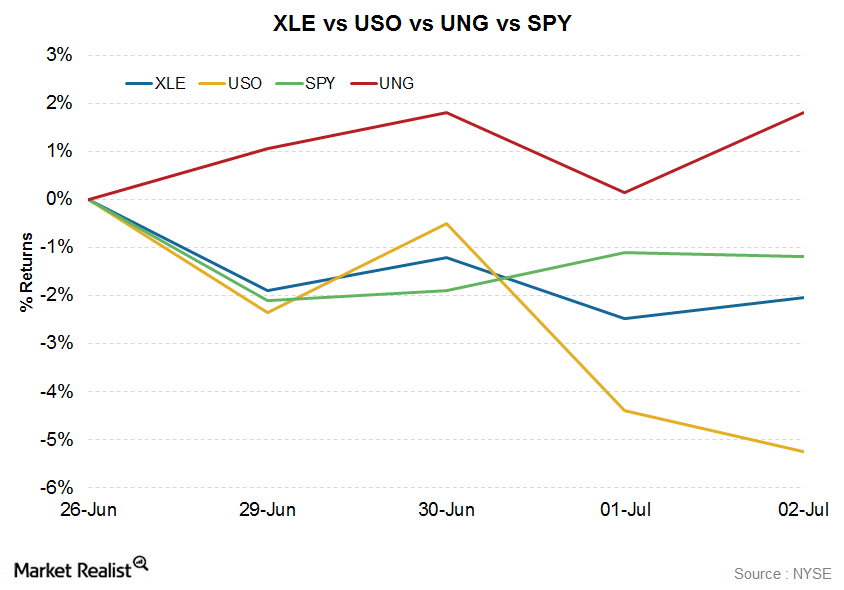 Week of July 2: XLE Falls, Albeit Less than USO, while UNG Gains
By Keisha Bandz

Nov. 20 2020, Updated 5:25 p.m. ET
The Energy Select Sector SPDR ETF
The Energy Select Sector SPDR ETF (XLE) lost 2% in the week to July 2. The ETF tracks a diverse group of ~45 of the largest American energy stocks constituting the S&P 500 Index (SPX).
Article continues below advertisement
Comparing performances
In comparison, the broad market SPDR S&P 500 ETF (SPY) lost 1.2%. Negative speculation surrounding Greece's exit from the Eurozone weighed on the broad market ETF.
The United States Oil Fund (USO) fell ~5.3% in the week to July 2. On the contrary, the United States Natural Gas Fund (UNG) gained 1.8%. USO and UNG track movements in prompt WTI crude oil and Henry Hub natural gas futures prices, respectively. UNG was the only gainer among our comparable securities for the week, while USO was the biggest loser. UNG gained on account of improving natural gas prices. USO on the other hand, was down as a result of plunging crude oil prices in the July 2 week.
Crude oil saw weakness following a surprisingly bearish inventory report last week. You can read about it in Crude Oil Inventories Rise: Can Gasoline Inventories Save WTI?
Apart from upstream energy companies, weaker crude oil prices don't bode well for MLPs (master limited partnerships) such as MarkWest Energy Partners (MWE).
About XLE
XLE has exposure to many types of energy companies, with different exposures to energy prices. For example, XLE holds:
So, XLE provides a safer, low-cost, and diversified exposure to energy prices.
But, investors should also note that XLE is a market-weighted index ETF. Its top five securities constitute 44% of its weight, with Exxon Mobil (XOM) and CVX alone constituting 28%.
In the July 2 week, XLE's top five holdings fell in the range of 0.85% to 3%, which was quite subdued compared to the losses USO saw during the week. Plus, VLO, one of XLE's top ten constituents gained 6%. This also helped cancel some of its losses.
So, XLE was a better trade compared to USO, thanks to its top holdings being less affected by the fall in crude oil prices.