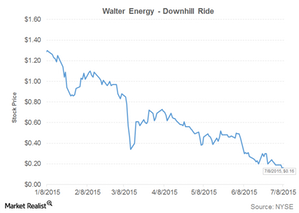 Walter Energy Is Preparing for Chapter 11 Bankruptcy
By Mike Sonnenberg

Nov. 20 2020, Updated 12:20 p.m. ET
Is it news?
On Wednesday, July 15, Walter Energy (WLTG) filed for Chapter 11 bankruptcy, which passes control over the company to its senior creditors, including bondholders and loan holders. Junior debt holders will have to let go of their claims. Moreover, bankruptcy will lead to a leaner structure, reducing labor and pension costs.
In May, the company warned that it may consider Chapter 11 bankruptcy, after invoking a grace period to make a $62.4 million interest payment. We have been writing about the strong possibility of Walter Energy's bankruptcy for a long time now. In October 2014, we published Industry Overview: The shifting sands of US coal production, which emphasized the possibility of Walter Energy's bankruptcy. So, this update shouldn't have been news for our regular readers. You can subscribe to our newsletter for regular updates.
Article continues below advertisement
Grace period exercised, again
On June 11, 2015, Walter Energy announced that it would exercise its grace period for an interest payment on 9.875% senior notes due in 2020. The original due date for the interest payment was June 15, 2015. The grace period ended on July 15, 2015. The face value of notes in question is $500 million. So, the company exercised the grace period with respect to a $24.7 million bi-annual interest payment on these bonds. The company filed for bankruptcy on the last day of the grace period.
About Walter Energy
Walter Energy (WLTG) identifies itself as a pure-play metallurgical coal producer. The company owns mines in Alabama and Virginia, as well as in Canada and the UK. However, only its US mines are currently operational after the company idled its entire Canadian and UK operations in 2014.
Other global metallurgical coal producers (KOL) include Peabody Energy (BTU), Alpha Natural Resources (ANR), Rio Tinto (RIO), and BHP Billiton (BHP). Metallurgical coal is used in steelmaking.
What has happened to the company's stock? Let's find out in the next part of this series.