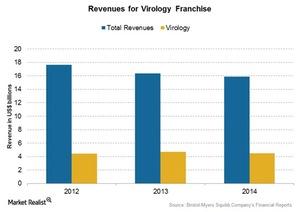 How the Virology Franchise Works for Bristol-Myers Squibb
By Mike Benson

Updated
Virology franchise
Bristol-Myers Squibb's (BMY) virology franchise is focused on addressing the significant unmet medical needs of patients with chronic viral diseases and related illnesses like Hepatitis B, Hepatitis C, HIV (human immunodeficiency virus), and AIDS (acquired immunodeficiency syndrome).
Article continues below advertisement
Key products
There are three key products under BMY's virology franchise. Each one has contributed more than $1 billion every year since 2012. The products are Baraclude, Reyataz, and Sustiva.
Baraclude (entecavir) is an oral antiviral for the treatment of Hepatitis B. Baraclude's revenues for 2014 decreased due to the launch of generic entecavir by Teva Pharmaceutical (TEVA) in September 2014. The increase in revenues for 2013 was due to increased demand as well as a higher average net selling price.
Reyataz (atazanavir) is a protease inhibitor for the treatment of HIV. Reyataz's revenues for 2014 decreased due to lower demand as a result of competitors' products. There was also an impact of unfavorable foreign exchange.
Sustiva (efavirenz) is a non-nucleoside reverse-transcriptase inhibitor for the treatment of HIV. Atripla, which also contains efavirenz, is sold through BMY's alliance with Gilead Sciences (GILD). Revenues for these drugs increased in US markets due to higher average net selling prices partially offset by lower demand. For international markets, revenues decreased in 2014 following Sustiva's loss of exclusivity in European markets in November 2013. Revenues were also affected by Atripla's revenue sharing with Gilead.
Hepatitis C franchise deals include the drugs Daklinza and Sunvepra. Daklinza was launched in Germany in August 2014 and other European Union countries in September 2014. Both these drugs were launched in Japan in September 2014.
Research and development
Bristol-Myers Squibb (BMY) is focused on developing new medicines and treatments for HIV and AIDS and exploring new ways to attack HIV to make treatments simpler. The company is also working to provide new treatments for Hepatitis B and Hepatitis C. In spite of some effective therapies, the company has faced problems related to drug potency, resistance, and tolerability.
BMY's virology franchise has competitors such as GlaxoSmithKline (GSK) and Mylan N.V. (MYL). Bristol-Myers Squibb (BMY) forms about 3.8% of the total assets of the Health Care Select Sector SPDR ETF (XLV).