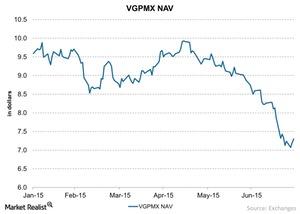 VGPMX Has Underperfomed the Market
By Ivan Kading

Nov. 20 2020, Updated 5:23 p.m. ET
Sector funds have high risk
Vanguard Precious Metal and Mining Investment Fund (VGPMX) lags in diversification, as it's a pure sector fund. Gold, for example, is affected significantly by currency movements, trade imbalances, and international monetary policy. In addition to that, VGPMX is an equity fund that is always risky and volatile.
Article continues below advertisement
Gold stocks are dependent on gold price
Fluctuations in the price of gold and precious metals can dramatically affect the profitability of firms in the gold and precious metals sector and can directly influence the value of the securities issued by such companies. VGPMX's net lifetime return since its inception is 3.14%, much less when compared to its benchmark S&P 500 Index (SPY) return over the years. Moreover, the fund has fallen by 18.99% this year.
As is evident from the above graph, VGPMX has performed poorly in the market and has dropped significantly. The reason for this is that Dominion Diamond Corporation (DDC) and Nevsun Resources (NSU), the top two holdings of this fund, have fallen by 31% and 20% since January, respectively.
Top ten heavily weighted stocks
Other precious metals and mining stocks included in VGPMX are BHP Billiton (BHP), Randgold Resources (GOLD), Goldcorp (GG), and Royal Gold (RGLD). The top ten stocks of this fund's portfolio constitute about 48.94% of the total portfolio. Thus, a significant movement in these stocks directly affects the performance of this fund.