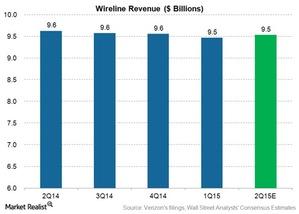 Verizon's Wireline Revenue Should Continue to Fall in 2Q15
By Ray Sheffer

Jul. 21 2015, Updated 7:49 a.m. ET
Verizon's wireline revenue in 2Q15
Earlier in this series, we learned about the expectations for the performance of Verizon's (VZ) wireless segment in 2Q15. Wireless is the telecom company's largest segment. It had ~$22.3 billion in revenue and ~$10 billion in EBITDA (earnings before interest, tax, depreciation, and amortization) during 1Q15. Wireline is Verizon's other segment. It reported ~$9.5 billion in revenue and ~$2.2 billion in EBITDA during 1Q15. Wall Street expects the segment's lackluster performance to continue in 2Q15.
According to Wall Street analysts' consensus as of July 10, 2015, the revenue of Verizon's wireline segment is expected to fall ~1% YoY (year-over-year) to ~$9.5 billion in 2Q15.
This fall in the segment's revenue during the quarter should mainly be due to the shrinking enterprise and wholesale subsegments. They represented ~51% of the wireline segment's revenue in 1Q15.
Article continues below advertisement
Enterprise and wholesale segments
The revenue for Verizon's wireline segment fell ~2% YoY to reach ~$9.5 billion during 1Q15. The enterprise and wholesale subsegments in the wireline division dampened the segment's overall revenue growth.
The enterprise segment's revenue fell~6% YoY to reach ~$3.3 billion in 1Q15. The fall in enterprise revenue was mainly due to a ~13.20% YoY fall in its core services' revenue. Verizon's wholesale subsegment revenue also continued to fall during 1Q15. The subsegment's revenue fell ~3.70% YoY to ~$1.5 billion during the quarter.
The falling trend in the enterprise and wholesale segment's revenue is expected to continue in 2Q15. Shrinking voice and other legacy wireline services are expected to negatively impact the revenue growth of both these subsegments during the quarter.
Instead of investing in Verizon's stock, you can get diversified exposure to the telecom company through the iShares Russell 1000 Growth ETF (IWF). IWF held ~1.70% in the carrier as of June 30, 2015.
You can also get diversified exposure to the telecom company by investing in the iShares Russell 1000 ETF (IWB). IWB held ~0.90% in the company on the same date. However, please note that IWB also held ~0.88% in AT&T (T), ~0.02% in Sprint (S), and ~0.05% in T-Mobile (TMUS) on the same date.