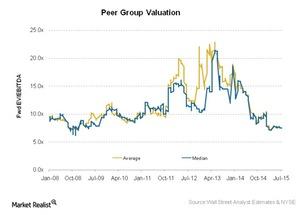 Key for Investors: Valuations as Indicators
Valuation ratio for the shipping industry
Shipping companies are cyclical and volatile in nature. The companies are capital intensive—similar to upstream companies (XOP) with high levels of depreciation and amortization. Also, the companies have varying degrees of financial leverage. The companies are better valued and compared using EV/EBITDA (enterprise value to earnings before interest, tax, depreciation, and amortization). EV is the total company value.
Article continues below advertisement
Industry EV/EBITDA multiple 
We've calculated the industry's forward EV/EBITDA by considering Frontline (FRO), DHT Holdings (DHT), Teekay Tankers (TNK), Tsakos Energy Navigation (TNP), and Nordic American Tanker (NAT). The average forward EV/EBITDA multiple at the start of July 2015 was 7.50. The median EV/EBITDA multiple was 7.46. All of these multiples have lowered—compared to the week before when the average and median EV/EBITDA multiples were 7.68 and 7.79.
In the shipping industry, valuations are generally higher in bad times—the profitability is lower. Similarly, valuations are lower in good times. The reducing valuations indicate that good times are ahead. They show that investors can expect some good returns from the crude tanker industry.
EBITDA estimates
Since the tanker rates are climbing and the bunker cost is coming down, analysts are expecting higher EBITDA to be reported in the 2Q15 results. For all five companies mentioned above, including Euronav (EURN), analysts have upwardly revised their EBITDA estimates. The highest change among the peers was for Nordic American Tanker. The EBITDA estimate has been revised from 38.2 million to 46.07 million—a 20.54% rise.
With all of the indicators giving positive signs, investors might expect some spectacular 2Q15 results