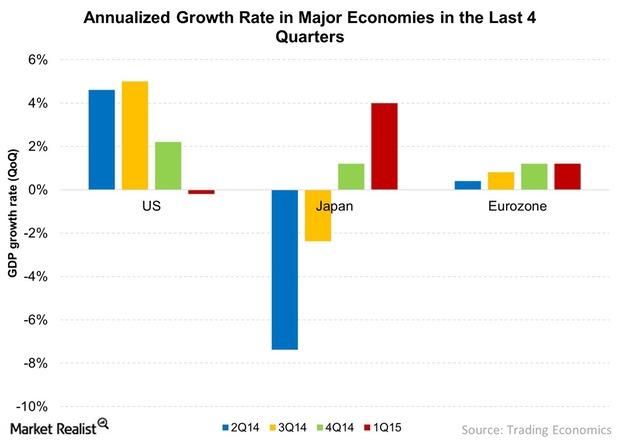 The US Economy Is Relatively Strong
By Rick Rieder

Jul. 17 2015, Published 3:55 p.m. ET
All things considered, the US economy is in good shape
Similarly, corporate investment is probably stronger than it appears, due to the same deflationary forces at play within the information technology (or IT) segment of the capital investment universe. Indeed, on a constant-dollar basis, IT investment has surged far beyond what's implied by merely looking at gross corporate spending levels, which don't take into account tech price deflation. Finally, "easy to count" metrics about the economy also show improvement. For instance, this last April, the US saw higher levels of income tax revenue than ever before, and auto sales and hotel revenues have been accelerating recently.
Article continues below advertisement
In short, a close look at much recent economic data shows a US economy that is doing quite well considering the long-term headwinds holding down growth, from demographic changes to consumer debt levels. And while US economic growth today is lower than at points in the 1980s and 1990s, it's still quite remarkable in a global environment beset by only moderate European growth and slowing growth in China (FXI) and other emerging markets.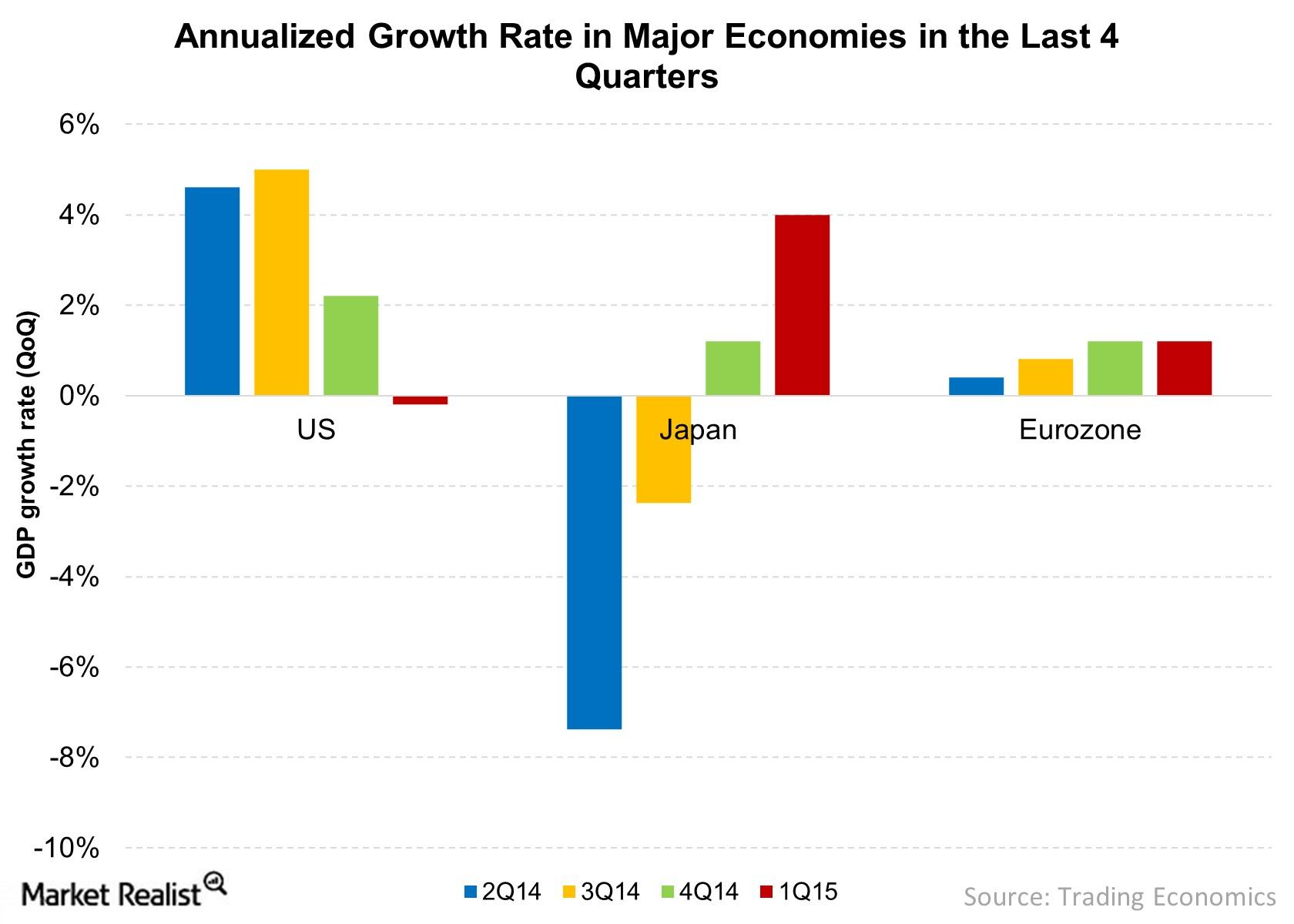 Market Realist: The US economy is relatively strong
The graph above compares annualized quarter-over-quarter GDP (gross domestic product) growth in the US, Japan, and the Eurozone over the last four quarters.
Last year, the US (IVV) was the only bright spot among developed markets (EFA). Its GDP grew at an annualized rate of 4.6% in 2Q14, 5% in 3Q14, and 2.2% in 4Q14.
Meanwhile, the Japanese (EWJ) and European economies (IEV) were grappling with recessionary pressures early last year. The annualized growth rate in Japan was -7.4% in 2Q14, -2.4% in 3Q14, and 1.6% in 4Q14. The negative growth in the second quarter was mainly due to the hike in its consumption tax, from 5% to 8%. In 1Q15, however, Japan's GDP grew at an annualized rate of 4%. During the same quarter, US GDP grew by a meager 0.2%, although in fairness, this figure was affected by temporary factors.
The European economy has seen tepid growth rates since the financial crisis. Nevertheless, it has been showing signs of recovery over the last few months. The Eurozone's annualized GDP growth rates were 0.4%, 0.8%, 1.2%, and 1.2% over the last four quarters, respectively.
While the Japanese and the European economies seem to be improving, the US economy still seems to be in a better position than the rest.