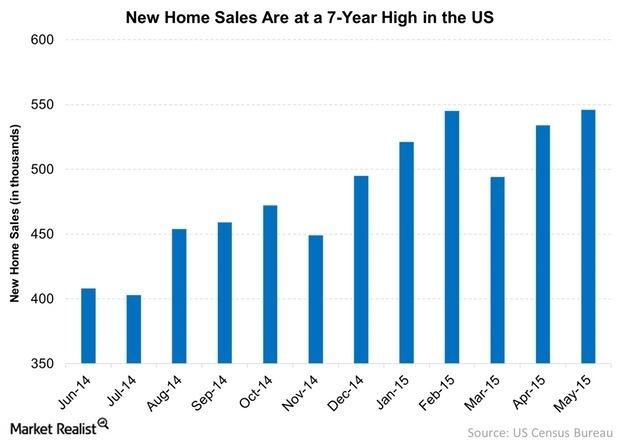 Why Is the US Economy in Decent Shape?
By Rick Rieder

Jul. 2 2015, Published 3:56 p.m. ET
Meanwhile, other numbers, and anecdotal evidence, confirm this view of consumption. Housing starts are moving dramatically higher, iPhones are hitting record sales, the lines remain long at Starbucks and most importantly, people are being hired in record numbers to satiate the consumer demand, as we see in May's jobs report, which exceeded the consensus of economic forecasts, and the long-term employment picture.
Article continues below advertisement
Market Realist – The US economy is in decent shape.
Low interest rates have been a boon for most families. Home affordability is close to a multi-decade high. The new home sales figure touched its seven-year high in May when 546,000 new homes were sold. As the graph above shows, new home (IYR)(VNQ) sales have risen over the last 12 months.
Lower oil (USO) prices and very low interest rates have aided consumers in buying new houses. Low gasoline prices mean that consumers have more to spend on other things.
Unaudited data show that Apple's (AAPL) revenue for 2Q15 is ~$58 billion—27.1% growth from 2Q14. Also, operating income for Starbucks (SBUX) is up by 21% in 2Q15. All of this data proves that consumers are ready to spend.
Currently, the unemployment rate  stands at 5.5%—compared to over 6% last year. Also, while wages aren't where they should be, they're accelerating. In February, Walmart (WMT) announced that it was raising its minimum wage to $9 an hour. In March, Target (TGT) announced that it was also raising its minimum wage to $9 an hour. McDonald's (MCD) plans to raise its minimum wage to an average of $9.90 an hour. A continuation of this trend could result in meaningful wage increases.
As we discussed earlier, disposable income is rising meaningfully. This should lead to higher consumption levels. Continue reading for more on why the economy is improving and not contracting.