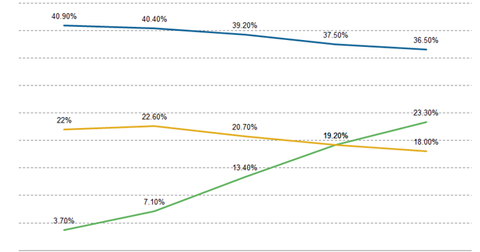 Is There Upward Potential in Chinese Tech Stocks?
By Adam Rogers

Updated
Internet sector's larger share in the global ad market
Internet advertising is all set to expand its share in the $300 billion global advertisement market. It's also the most measurable and actionable "ad sector" compared to TV, print, and radio due to advancement in monitoring and measuring audiences across multiple devices as well as data platforms.
Article continues below advertisement
In the above graph, you can see that the time spent on mobile is rising compared to the time spent on TV in the US.
Online sector growth in China
In 2014, total e-retailing sales for China were $430 billion. It's projected to rise by 59% to $650 billion by 2020. According to the China Internet Network Information Center, 83% of Chinese users are more likely to use a mobile device instead of a PC while accessing the Internet. It estimates that 1.10% of the retail sales in the US were done online. The figure for China stands at 4.30%.
Article continues below advertisement
Why Chinese ETFs?
Currently, there are more Internet users in China than the population of the US. This gives us an indication towards the exceptional performance of Chinese tech ETFs in the last few years. The growth in Chinese tech stocks is expected to occur at an exponential rate in the future. The Internet penetration in China is still low compared to developed economies across the globe. As the number of people using the Internet rises, there will be a rise in the demand for mobile gaming, social media, and e-commerce.
The performance of the Chinese tech ETFs can be compared with their US counterparts in order to understand what they offer. Instead of investing in stocks like Google (GOOG), Facebook (FB), and Amazon (AMZN), investors can look to target the Chinese versions of the US-based companies for higher returns.
Facebook is listed on US tech ETFs. It accounts for 3.49% of the Power Shares ETF (QQQ) and 4.08% of the Technology Select Sector SPDR (XLK).