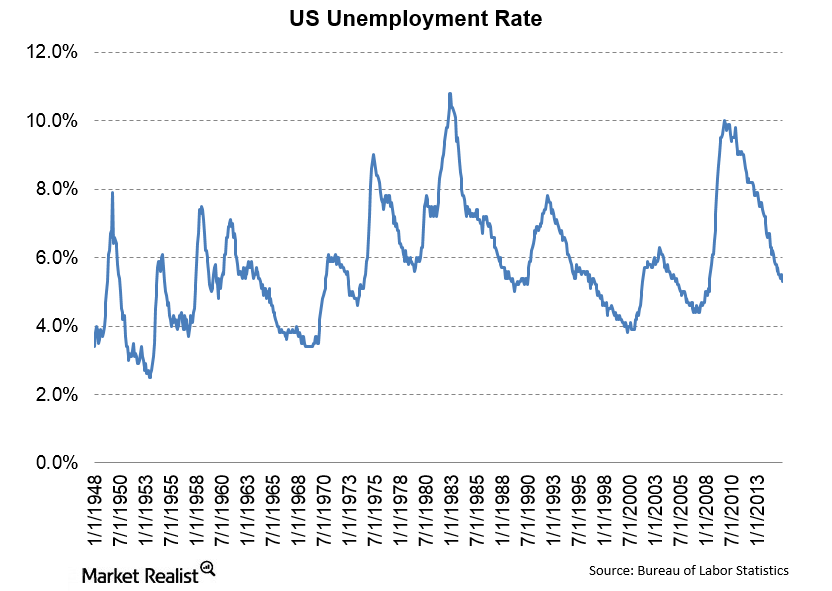 The Unemployment Rate Falls as the Labor Force Shrinks
By Brent Nyitray, CFA, MBA

Jul. 8 2015, Published 4:40 p.m. ET
Highlights from the survey
The unemployment rate ticked down 0.2% to 5.3% in June, or about 8.3 million people. The underemployment rate includes discouraged workers—people who want to work, but who have given up looking. It also includes people marginally attached to the labor force and people employed part time who want to work full time.
The underemployment rate slipped 10.5%, however, the labor force dropped by about 400,000 workers.
The number of people employed part time for economic reasons—also referred to as involuntary part-time employees—was largely unchanged at 6.5 million. These are people who want a full-time job, but are unable to find one.
Article continues below advertisement
Influence on Fed policy
The Fed has a dual mandate: to maximize employment consistent with price stability. While the health of the labor market is partially described by the unemployment rate, that isn't the only indicator that matters.
In fact, the Fed had been using an unemployment target to guide policy, but backed off as we approached that target rate. The Fed found itself in a position where the rule suggested it raise rates, but the economy was nowhere near ready to handle higher rates. The Fed's language has shifted to a more holistic view of the labor market. Investors interested in making directional bets on interest rates should look at the iShares Barclays 20+ Year Treasury Bond Fund (TLT).
Implications for mortgage REITs
Changing unemployment is a double-edged sword for REITs. Some, like non-agency REITs, bear credit risk, and an improving economy is good news for them. Others, like agency REITs, primarily bear interest-rate risk, and they are vulnerable to a hawkish Fed.
Levered agency mortgage REITs such as Annaly Capital Management (NLY), MFA Financial (MFA), and American Capital Agency (AGNC) are probably the most sensitive to short-term interest rates. The repurchase agreements they use to finance their balance sheets are fixed to LIBOR, which is heavily influenced by the federal funds rate.
Non-agency mortgage REITs like Two Harbors (TWO) tend to use less leverage, so they are less affected than the others. Real estate companies like Colony Financial (CLNY) are affected most by improving credit.
Investors interested in broad exposure to the mortgage REIT sector should look at the iShares Mortgage Real Estate ETF (REM).