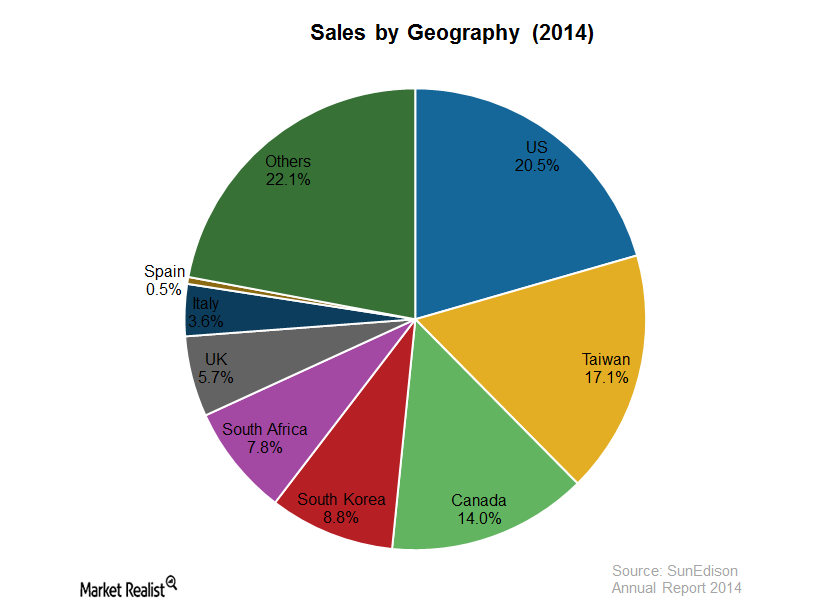 Understanding SunEdison's Business Model
By Saania Malik

Aug. 12 2019, Updated 2:49 a.m. ET
Revenue generation model
SunEdison's (SUNE) business model is divided into three revenue segments: Solar Energy, Semiconductor Materials (SEMI), and TerraForm Power (TERP). Combining the products and services in these three segments, the company's operations span the solar value chain—from polysilicon manufacturing to electricity sales.
SunEdison has a complex corporate structure with publicly traded subsidiaries handling two of the three operating segments. Over 60% of the company's revenues come from the Solar Energy Segment. The company is currently undergoing restructuring efforts with the newest segment, TerraForm, taking on an increasing share of revenues.
Article continues below advertisement
Key customers and geographic reach
SunEdison has a diverse customer base in terms of user types as well as geography. Domestically, key customers of the Solar Energy business include commercial customers (retail chains and real estate property management firms), government customers (federal, state, and municipal), and utilities.
Internationally, the company has extended its geographic outreach to specific countries in Latin America, Europe, Middle East, and Asia, including Chile, Brazil, Italy, Turkey, Japan, and China. Within those countries, the company works with local project developers.
Key customers of the Semiconductor Materials business include notable firms like IBM (IBM), Intel (INTC), Samsung, and Taiwan Semiconductor Manufacturing Company. The company has deployed direct sales forces serving customers internationally, including in China, France, Germany, Italy, Japan, Malaysia, Singapore, South Korea, Taiwan, and the US.
These three segments are discussed in greater detail in the following parts.