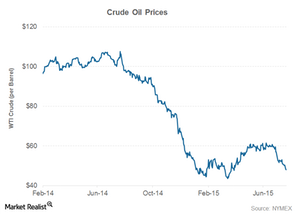 Understanding Freeport-McMoRan's Energy Strategy
By Mohit Oberoi, CFA

Jul. 30 2015, Updated 11:07 a.m. ET
Freeport McMoRan's energy strategy
Previously, we looked at Freeport-McMoRan's (FCX) 2Q15 earnings. We also explored some of the major growth opportunities Freeport is pursuing in the copper business. Now we'll take a look at Freeport-McMoRan's energy strategy. The company continues to make capital investments in its oil and gas business despite lower energy prices.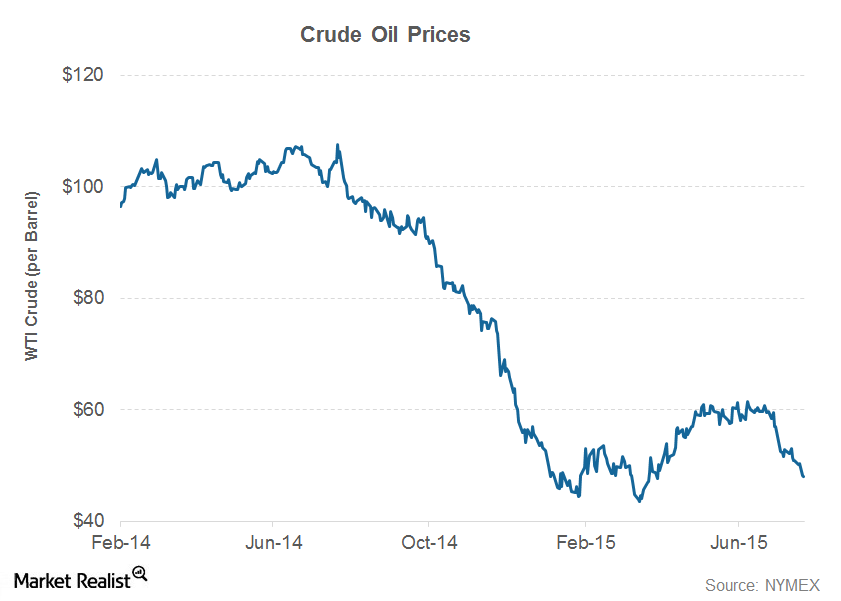 Article continues below advertisement
Lower crude oil prices
The above graph shows the recent movement in WTI (West Texas Intermediate) crude oil prices. Falling prices have prompted energy exploration companies (XOP), including ConocoPhillips (COP) and Suncor Energy (SU), to rethink their business plans. Freeport has reduced its capital expenditure budget for its energy business and even sold some assets last year.
However, the company continues to invest in select growth projects. Freeport's current strategy is to invest in lower-risk drilling and tieback opportunities. In tieback opportunities, Freeport looks for lower-risk drilling facilities near its existing production facilities. This arrangement requires lower capital than a Greenfield development project, since Freeport's existing infrastructure provides it with a competitive advantage.
Increase in production
As we've already seen, Freeport has managed to reduce its cash production costs in 2Q15. Freeport expects to further increase its energy (XLE) output over the next couple of years. This would lead to economies of scale as the fixed costs get spread out. This would also bring down unit production costs.
Lower unit production costs would help Freeport make some money even if crude oil hovers around $50 per barrel.
In its 2Q15 earnings conference call, Freeport said it's looking at several opportunities. But does the current market scenario leave Freeport many alternatives? We'll explore that in the next part of this series.