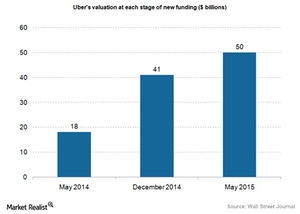 Uber May Acquire Microsoft's Bing Maps Asset
By Puneet Sikka

Jul. 9 2015, Published 2:39 p.m. ET
Uber could acquire Microsoft's digital navigation technology
Uber has been in the news these days for a number of reasons. According to a recent report from TechCrunch, Uber could be in the process of acquiring Microsoft's (MSFT) Bing Maps service. Bing Maps is digital navigation technology that Uber could use to build its own mapping product. This way, Uber would avoid being dependent on Google (GOOG) Maps, which is what it currently uses.
A few weeks ago, Uber reportedly submitted a bid to acquire Nokia's (NOK) Here mapping unit for $3 billion. This bid would have competed with a consortium bid by the top three automakers—BMW, Audi, and Daimler—along with Baidu (BIDU). We looked at this in a previous article, Nokia Looks to Divest Mapping Unit Valued at $2.2 Billion. Clearly, competitors want to thwart any challenge presented by Google's self-driving car project.
Article continues below advertisement
Uber's valuation continues to increase
Uber continues to grow fast, which is why it could soon become the world's most valuable startup company. According to a report from the Wall Street Journal, citing people familiar with the matter, Uber could be valued at more than $50 billion after the next round of funding. If it rises above that valuation, Uber will beat Facebook's (FB) $50 billion valuation, attained before its initial public offer in 2011, taking the top spot for the highest-ever valuation for a private company.
Uber has managed to grow its valuation in every round of new funding. As the chart above shows, Uber was valued at $18 billion in May 2014 and then valued at $41 billion in December 2014 after new rounds of funding.
Investors value Uber because of its aggressive plans to broaden its reach. Uber is now present in more than 250 cities across the world, although it has seen significant backlash from taxi drivers, mainly those in Europe (EFA).