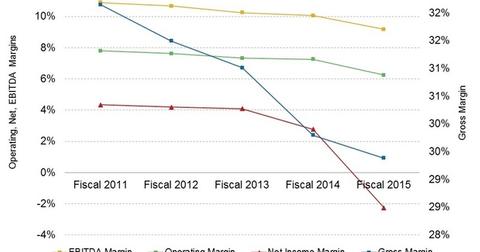 How Target's Financial Health Benefits from the CVS Deal
By Phalguni Soni

Updated
Why Target sold its pharmacies and clinics to CVS Health
As we detailed in Part 1 of this series, Target (TGT) is selling its pharmacy business to CVS Health (CVS) in a $1.9 billion deal announced last month. The pharmacies and clinics operating under Target would be rebranded as CVS/pharmacy and MinuteClinic, respectively.
Article continues below advertisement
How Target benefits
For Target, this deal has several strategic and financial benefits. According to company guidance:[1. Provided by Target CFO John Mulligan]
CVS would pay $20 million–$25 million to Target in annual occupancy costs for the use of its real estate.
Target estimates a pre-tax divestiture gain of ~$550 million from the transaction.
The deal would enable Target to improve its operating margins, with immediate effect.
The deal is also expected to improve long-term return on capital employed by at least 0.5%.
Target's shareholders benefit, as the deal is expected to be accretive to long-term earnings per share (or EPS).
Higher profitability
Target reported an annual turnover of ~$4.2 billion for its pharmacy business in the last fiscal year, representing ~5.6% of its sales. However, the business isn't making money, and operating profits were nearly zero last year. The removal of $4.2 billion from Target's top line would immediately boost its operating margin, assuming the same level of profitability from other lines of business.
Target expects its EBIT (earnings before interest and taxes) margin to increase by 0.4% without the pharmacy business.
In fiscal 2015, Target earned an operating margin of 6.2%, compared with 5.6% for Walmart (WMT), primarily due to differences in its merchandising mix. Profitability has also taken a dip in recent years for both Target and Walmart, largely due to a lower number of transactions and a more promotional retail environment.
The deal with CVS is expected to be a major traffic booster for Target, which we will discuss in the next article.
CVS, WMT, and TGT are included in the portfolio holdings of the SPDR S&P 500 ETF (SPY). SPY has 9.4% of its holdings invested in consumer staples firms and 12.7% of its holdings invested in consumer discretionary firms.
CVS is also among the top ten holdings in the First Trust Consumer Staples AlphaDEX Fund (FXG). FXG has 24.7% of its holdings invested in food and staples retailers.