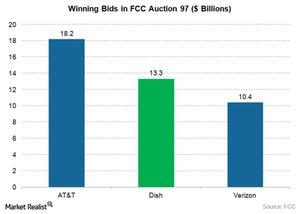 T-Mobile Deal: Why Dish Wants to Merge with a Wireless Carrier
By Ray Sheffer

Jul. 28 2015, Updated 8:06 a.m. ET
T-Mobile deal to leverage Dish's significant spectrum holdings
In the last part of this series, we learned about the current status of the merger talks between T-Mobile (TMUS)—the US wireless carrier—and Dish Network (DISH)—the US satellite TV provider. Here, we'll delve into Dish's motivation for the T-Mobile deal.
Dish has a large wireless spectrum license portfolio. The company has acquired these spectrum licenses through mergers and FCC (Federal Communications Commission) auctions. At the recent FCC auction for the AWS-3 spectrum, Dish bought ~$13.3 billion—before discounts—worth of holdings through two designated entities.
As you can see in the above chart, AT&T won AWS-3 licenses that were worth the most at this auction. Dish was the second-largest bidder. And Verizon (VZ) was the third-largest bidder at this auction.
Dish has significant holdings in the mid-band wireless spectra. These capacity spectra help wireless carriers manage the high traffic associated with data usage. Dish's designated entities won 25 MHz (megahertz) holdings at the FCC's AWS-3 auction.
AWS is a mid-band capacity spectrum. The company had a significant ~50 MHz spectrum in the mid-band even at the end of June 2014. However, in the low-band coverage spectra, Dish had only ~4.6 MHz spectrum holdings at the end of the same period.
Article continues below advertisement
Dish would gain wireless expertise with the T-Mobile deal
The T-Mobile merger would give Dish the opportunity to gain from the growth of the fourth-largest US wireless carrier. Dish could use T-Mobile's expertise to deploy its spectrum holdings. This transaction should help Dish in efficiently meeting FCC requirements on the deployment of its spectrum holdings.
The initial FCC requirements stipulate that Dish provide wireless coverage to customers from 40% of its significant AWS-4 spectrum holdings by March 2017. Dish also has to provide wireless coverage to 40% of the population covered by its low-band spectrum holdings by the same deadline.
You may get diversified exposure to Dish by investing in the iShares Russell 3000 ETF (IWV) or the iShares Russell 1000 ETF (IWB). These ETFs each had ~0.1% exposure to the satellite TV provider as of June 30, 2015.