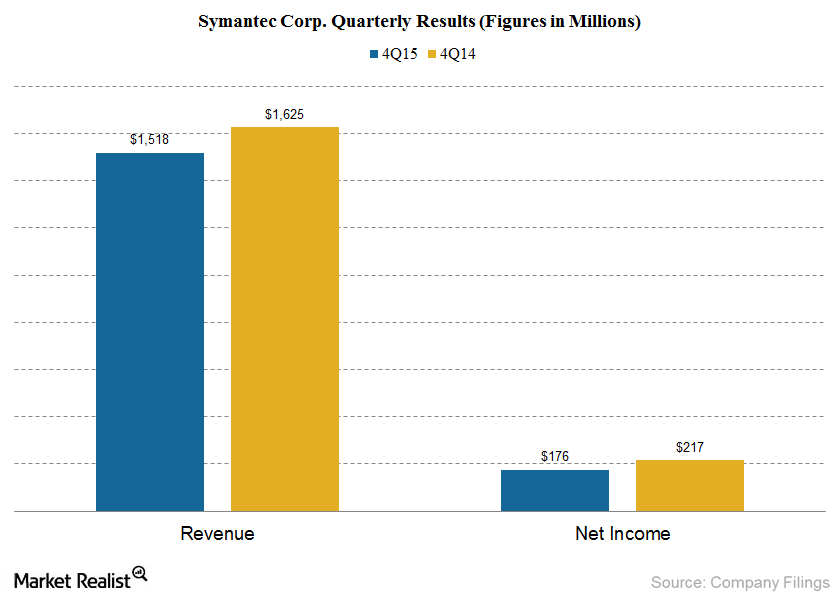 Analysts See Symantec as Value Stock
Systems Software subsector
The Systems Software subsector generated returns of -0.76% over a five-day period. As a whole, the subgroup is trending downward due to a lower demand for personal computers. Companies in this industry include Oracle (ORCL), Microsoft (MSFT), Red Hat (RHT), CA (CA), and Symantec (SYMC).
As a whole, the year-to-date performance of these five stocks in the Technology Select Sector SPDR ETF (XLK) have fallen more than -4.5% compared to the flat performance from the S&P 500 and a -0.6% loss for XLK.
Article continues below advertisement
Symantec announces partnership with Box
On June 17, 2015, Symantec (SYMC) launched DLP 14, an improved version of Data Loss Prevention. DLP 14 is Symantec's cloud-based security product that ensures total security for information storage, thus ruling out the possibility of a data breach. SYMC also announced a partnership with Box, a cloud storage provider. Symantec plans to develop a product that combines DLP 14 with the Box platform in order to provide greater control over a company's data.
Analysts believe this product will help Symantec increase its customer base, which will increase its revenues.
Symantec trades at enterprise multiple of 2.34x
Analysts call Symantec (SYMC) a value stock. Investors seek stocks that trade at a low price relative to fundamentals such as sales and earnings.
The average enterprise-value-to-sales (EV-to-sales) for the System Software subsector is 3.93x. Symantec is trading at a much lower EV multiple of 2.34x. The forward EV-to-sales multiple for the company is 2.32x compared to the sector average of 3.71x. This shows that the stock is undervalued and might be trading at a discount to analysts' estimates.
Symantec's price target
Symantec shares are expected to reach $25.50 in the short term. Analysts' stock price target for the company is $25.90 with a median target estimate of $25.20. Symantec is thus trading at a discount of 3.91% with respect to its median target and is thus an attractive buy at current levels.
Analysts' target price is projected at a high of $29 and a low of $20 for Symantec stock.
Of 33 analysts covering this stock, eight have a "buy" recommendation, three have a "sell" recommendation, and 25 have a "hold" recommendation.