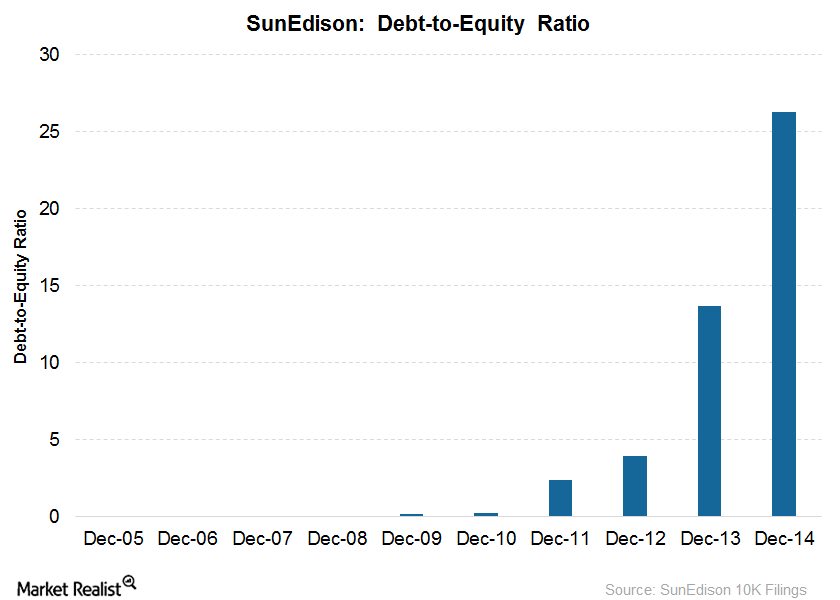 SunEdison's Balance Sheet: A Look at Leverage and Liquidity
By Saania Malik

Dec. 4 2020, Updated 10:43 a.m. ET
Debt profile
Throughout the restructuring of the past five years, SunEdison (SUNE) has become highly leveraged. Multiple acquisitions, as well as the expanding operations of each segment, have led to this increase in leverage.
The debt-to-equity ratio increased from 0.01 to 0.18 in 2009 when the original company, MEMC, acquired SunEdison LLC. The ratio increased from 0.27 to 2.41 in 2011, after the acquisition of multiple companies including Fotowatio Renewable Ventures and Solaicx. While these initiatives are focused on future growth, the company has yet to show positive earnings.
More than 50% of the long-term debt issued for these initiatives is due after five years. This long-term debt is mostly comprised of lease payments on solar energy system financing transactions.
Article continues below advertisement
Most debt obligations are secured by equity interest in the securities involved, be it the TerraForm yieldco (TERP) or a subsidiary in which the company has majority ownership. Solar energy assets and future cash flows from electricity sales also back some of the company's debt. Solar energy systems on the company's balance sheet have increased 195% year-over-year since 2013, from $2,213.3 million to $6,540.3 million. This represents a much faster increase than in previous years.
Liquidity
SunEdison's cash assets increased over 36% from 2013 to 2014. These liquid assets are essential for operations because the company funds the construction of solar energy systems for development or sale, capital expenditures that increased 191% from 2013 to 2014, and interest payments on its significant borrowings. In 2014, interest expense was $410 million, whereas it was only $189 million the year before.
Taking a look at the quick ratio, which measures the company's ability to pay off current liabilities with the most liquid current assets, the ratio was over 2 prior to the beginning of acquisition and restructuring activities in 2009. The ratio has declined steadily and ended at 0.45 for the 2014 fiscal year.
Read on to the next part of this series to find out the risks posed by the company's business model, as well as the company's potential to exhibit positive earnings and high performance.