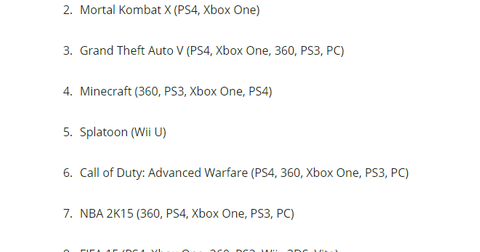 Sony PlayStation Led US Console Sales in May 2015
By Anne Shields

Updated
Sony PlayStation reclaims number one position in console space
The NPD group, a firm that tracks the video game industry, recently released industry statistics for May 2015. And a June 11, 2015, VentureBeat article by Jeff Grubb that reported on these statistics says that in May 2015, sales of the Sony (SNE) PS4 (PlayStation 4) console surpassed the console sales of Microsoft (MSFT) Xbox One.
Despite the fact that Xbox One led console sales in April 2015, it was PS4 that sold more software. According to the VentureBeat article, "The PS4 version outsold the Xbox One version for every game in the top 10 list that is available on both with the exception of Minecraft."
Article continues below advertisement
In a GameZone article by Matt Liebl published May 15, Sony claims that PS4 continues to be ahead of Xbox One in terms of lifetime sales. "According to NPD, PlayStation continues to lead software sales for April 2015 and PS4 remains the cumulative sales leader in the US. We are looking forward to an amazing E3," reads a statement from the company.
Both Xbox One and PS4 feature AMD (AMD) processors.
The above list shows the top ten game titles in May 2015 in the US. As the list shows, the Witcher III emerged as the winner. It debuted on May 19, 2015. Developer CD Projekt announced that over 4 million people have already bought the Witcher III game.
Gaming industry registers a decline in hardware as well as software revenues
In May 2015, new physical-game-related revenues stood at $507.6 million in the US, a 13% decline (YoY) year-over-year. New hardware revenues stood at $153.6 million, a YoY decline of 18%. Software reported a decrease of 25% to $204.7 million.
According to NPD analyst Liam Callahan, "The decline in May 2015 is attributed to poor comparisons to a strong release slate in May 2014, specifically the launches of Mario Kart 8 and Watch Dogs." He adds, "Collectively, May 2015 launches sold 55 percent less dollars (UUP) than May 2014 launches, however, catalog games outside of the launch month sold 3 percent more dollar volume compared to catalog games in May 2014."
If you're bullish about Microsoft stock, you could invest in the PowerShares QQQ Trust, Series 1 (QQQ), which invests about 8% of its holdings in Microsoft.