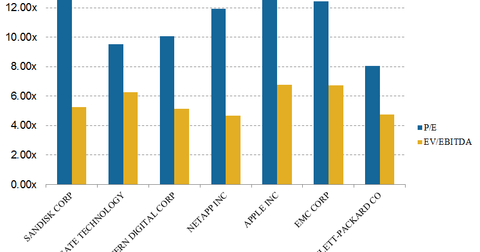 How Do SanDisk's Valuation Multiples Compare to Other Firms?
By Adam Rogers

Updated
Earnings per share
Currently, SanDisk's (SNDK) EPS (earnings per share) is $4.52 greater than the industry average of $4.05 in XLK. SanDisk's diluted EPS is $4.23—compared to the subsector average of $3.94. SanDisk's EPS has grown by an average of 8.2% in the last five years. This indicates the firm's consistent growth in earnings. Apple (AAPL), Western Digital (WDC), and Seagate Technology (STX) have diluted EPS of $6.45, $6.68, and $4.52, respectively.
SanDisk's return on equity is 12.1%. It's lower than the technology sector's return of 16%.
Article continues below advertisement
PE ratio
SanDisk's forward PE (price-to-earnings) ratio is 12.88x—compared to the subsector average of 11.11x. This indicates that investors expect greater earnings and revenue from the firm in the future. Apple is the only firm in this subsector that has a higher PE ratio, at 12.95x, than SanDisk. In contrast, Seagate Technology and Hewlett-Packard (HPQ) are currently trading at lower PE ratios of 9.52x and 8.03x, respectively.
Debt-to-enterprise value ratio
SanDisk's debt-to-enterprise value ratio is currently 23%. It's higher than the industry average of 20%. The value of a firm's debt would need to be paid by the buyer when taking over a company. As a result, enterprise value provides a much more accurate takeover valuation because it includes debt in its value calculation.
SanDisk's debt-to-equity ratio is also healthy at 32%. It's way below the technology sector's average of 85%.
EV/EBITDA
The firm's forward EV/EBITDA (enterprise value to earnings before interest, tax, depreciation, and amortization) is 5.24x lower than the subsector average of 5.65x. A low enterprise multiple is beneficial for SanDisk. This ratio indicates the theoretical takeover price if the company were bought.
On June 22, 2015, Summit Research updated the rating for the stock from "hold" to "buy." It also increased the price target from $61 to $85. As we stated earlier, the stock provides an upside potential of 25%. It's a very attractive buy at the current levels. Based on valuation ratios, SanDisk is a stock with strong fundamentals and analysts are bullish in the long run.