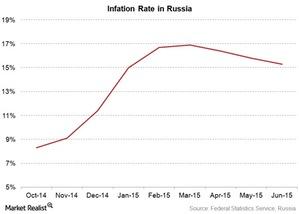 Russia's Inflation Is Still High at 15.3% in June, RSX Down 2.01%
By Surbhi Jain

Nov. 20 2020, Updated 12:57 p.m. ET
Russia continues to face economic woes
Economic woes seem to have found a permanent home in Russia. A while back, it was declining oil prices, a flight of capital, a weakening currency, and economic contraction that characterized Vladimir Putin's regime. Well, the currency continues to depreciate, the economy is still facing a slowdown, the unemployment still sits at highs of 5.6%, and the inflation rate has surged to 15.3%.
The Russia-tracking VanEck Vectors Russia ETF (RSX) was down 2.01% on July 6. On a year-to-date basis, RSX has risen 16.47%. However, if we look at the whole year starting in July 2014, which is also when oil started plummeting, RSX has lost 37.34%. Plummeting oil prices had hit the revenues of Russian energy giants such as Rosneft (OJSCY), Lukoil (LUKOY), and Gazprom (OGZPY).
A weakening currency and high interest rates make for a deadly combination of economic contraction and rampant inflation—and Russia has both on its plate currently. The economy is under contraction and a junk rating now looms over its credibility status.
Article continues below advertisement
A crash in the ruble had caused Russia's Central Bank to raise the key interest rate to 17% on December 15. This development led to inflation surging to 16.9% by March 2015, as the chart above shows. Moreover, the sanctions imposed by the West have hugely contributed to higher inflation levels in Russia.
However, subsequent rate cuts announced in 2015 have helped temper the inflation rate to some extent. Russia's key interest rate is now down to 11.50%, following the recent rate cut of 100 basis points on June 15. Russia's inflation rate stood at 15.3%, according to a July 6 release by the Federal Statistics Service in Russia.
Stay updated on our latest analysis of the United States (SPY)(IVV), the Eurozone, and the world (ACWI) macro environments by visiting Market Realist's Macro ETF Analysis page.