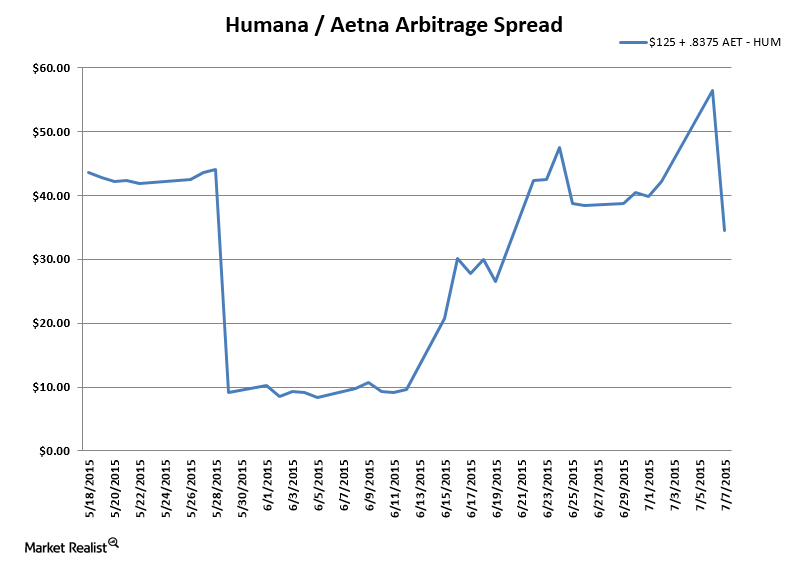 What Is the Risk-to-Reward Ratio of the Humana–Aetna Deal?
By Brent Nyitray, CFA, MBA

Nov. 20 2020, Updated 2:48 p.m. ET
Scenario analysis 
In the risk-arbitrage world, a 12.2% expected return means a deal that has a lot of risk. Arbitrageurs sometimes refer to risk as "hair." This deal is guaranteed a second request, and the regulators may simply be unable to get comfortable with the transaction, no matter what the companies offer in the way of remedies. Remember the best efforts language—if the regulators ask for so much that it kills the commercial logic of the deal, Aetna can walk away by paying Humana $1 billion.
Article continues below advertisement
Generally speaking, your base-case assumption has to be that the deal closes as advertised and that you earn the spread. After all, a merger agreement is a contract. If Aetna (AET) tries to walk away without a MAC (material adverse change) occurring, Humana (HUM) could sue and demand specific performance. In other words, Humana could take Aetna to court and try to get a judge to force Aetna to do the deal.
Aetna could try and claim a regulatory material adverse effect, but if the regulators are demanding less than $1 billion in divestitures, it would be hard to argue with a straight face that the regulators are causing the deal to break.
What's your downside if the deal breaks?
This is the big unknown. If you take a look at the chart above, you can see where the implied spread was trading before the deal was announced. Imagine that you are short the spread. If the deal closes, you end up making about $34 a share. If the deal breaks, then you would have to cover at $45 a share based on late-May press reports, when talk of the deal first emerged.
However, that isn't your worst-case scenario. Your worst-case scenario is that UnitedHealth (UNH) makes a hostile bid for Aetna. You would end up bleeding on both sides of the transaction, with your long side (Humana) under selling pressure and your short side (Aetna) up on the deal. This is fundamentally un-gameable.
Article continues below advertisement
Risk-to-reward ratio
As a general rule, risk-to-reward ratios provide an easy way to characterize risk arbitrage deals. While it's easy to get blinded by a nice internal rate of return, the risk-to-reward ratio is a good reality check.
In this case, the risk-to-reward ratio appears to be around 1:1, which for most deals is a no-brainer if the annualized return is there. However, the downside would be worse if someone comes in for Aetna.
Also, the entire sector has been lifted by potential mergers and acquisitions. If the regulators put the kibosh on this transaction, the entire sector is going to get hammered. Your late-May pricing may in fact be optimistic. My point is don't load up the boat simply because the risk-to-reward ratio looks low. It may not be.
Other merger arbitrage resources
Other important merger spreads include the Hospira–Pfizer deal. The Hospira (HSP) and Pfizer (PFE) merger is set to close in 2H15. For a primer on risk arbitrage investing, read Merger arbitrage must-knows: A key guide for investors.
Investors interested in trading in the healthcare sector should look at the Health Care Select Sector SPDR Fund (XLV).