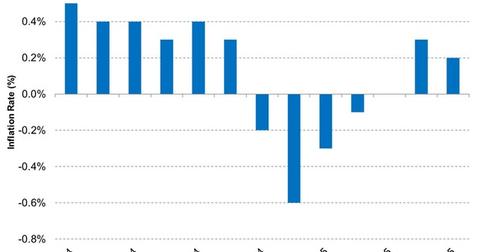 European Derailment? The Repercussions of a Grexit
By Russ Koesterich, CFA

Jul. 10 2015, Published 1:08 p.m. ET
While the "No" vote doesn't necessarily translate into an immediate Greek exit from the euro, it does substantially raise the odds that one will occur. At the very least, this outcome will lead to a prolonged period of chaos, as European officials try to salvage the situation amid continued negotiations. And a prolonged crisis risks putting the brakes on a recovery in European credit growth, slowing the region's recovery.
Article continues below advertisement
Market Realist – A Grexit could derail the European economic recovery.
Before the Greek (GREK) saga escalated, Europe (FEZ)(IEV) was actually in the midst of an economic turnaround. Economic data were beating expectations. As you can see in the graph above, inflation had turned positive in May, at 0.3%. In June, the inflation rate stood at 0.2%. The European economy (EZU)(VGK) has been showing signs of green shoots, thanks to the weak euro, which supported exports, and low borrowing costs.
However, the situation in Greece could potentially uproot any economic green shoots. Firstly, there's the fear of contagion, with a collapse in Greece causing ripple effects.
Secondly, the drama could dent the psyche of European consumers and businesses, leading to weak growth. As you can see from the graph above, the Eurozone Zew Economic Sentiment Index fell from 61.2 in May to 53.7 in June.
Repercussions of a Grexit
Greece's exit from the Eurozone (or "Grexit"), if it does happen, could have serious consequences. As we discussed earlier in this series, Greece's exit could prompt Portugal (PGAL), Spain (EWP), and Italy (EWI) to follow suit. Syriza might become an example for anti-austerity parties in these countries. Greece will have to transition from the euro to the drachma, which would nosedive without the backing of the Eurozone, causing high inflation. Also, a Grexit could lead to a further flight of capital from the economy, leading to a severe strain on liquidity.