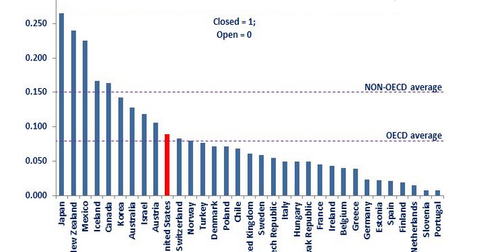 Regulatory Approval Will Challenge the Tsinghua-Micron Deal
By Anne Shields

Updated
Micron's DRAM technology is similar to national security
Due to the stiff threat posed by Asian companies, many US companies left the business by the late 1980s. Micron Technology (MU) is the only US-based major DRAM (dynamic random access memory) chip manufacturer left. Its products are a key component of computing devices like PCs, smartphones, and mobile devices.
According to Timothy Arcuri, an analyst at Cowen, "DRAM is in a lot of security-related applications. It's in defense-related stuff. It's in enterprise server applications that are storing very sensitive information. Also, it's the last remaining domestic DRAM producer, and I think right off the bat, there would be a lot of hurdles from a regulatory point of view." As a result, DRAM technology is vital to national security. It would be difficult for Tsinghua to get approval from the US government because it wouldn't allow a foreign company, especially the Chinese (FXI), to buy a chip maker of strategic components.
Article continues below advertisement
Regulatory approval might be difficult to achieve
As far as the financial aspect of this acquisition is concerned, China's state fund authorities will likely back up this acquisition. However, because it's a foreign acquisition, this deal will attract a close inspection from US officials in Washington DC.
Also, the CFIUS (Committee on Foreign Investment in the United States) must approve the merger. CFIUS is an entity that determines whether or not any foreign acquisitions or investments pose a security threat.
According to James Lewis, a security expert with the Center for Strategic and International Studies, "CFIUS is always suspicious of state-owned enterprises. That would be a huge obstacle." He added that "The second one is DOD (Department of Defense) has always been uncomfortable with technology transfers to China's microelectronics industry. It's not like the Chinese have done us any favors recently. I think what's a factor is U.S. companies are being treated unfairly in China."
How is the US ranked?
As the above chart shows, OECD ranked the US FDI regulatory regime as relatively closed and more restrictive than its peer nations. Parameters included foreign equity limitations, restrictions on foreign employment, screening mechanisms like CFIUS, and operational limitations.
Cross-border acquisitions and transactions always have a lot of hurdles to cross including political and regulatory approval. Avago Technologies (AVGO) is a Singapore corporation. It has its origins in the US with Agilent Technologies (A) and Hewlett-Packard (HPQ). It also has to satisfy various conditions for the deal to close.
To learn more about the risks associated with the Broadcom-Avago acquisition, please read The Broadcom-Avago Merger: Political Risk Is an Issue.
Investors who are interested in trading in the semiconductor space should look at the VanEck Vectors Semiconductor ETF (SMH).