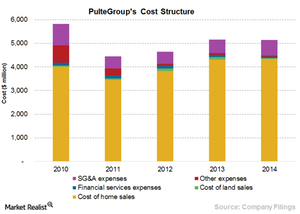 What Was PulteGroup's Cost Structure Breakdown in 2014?
By Peter Barnes

Updated
Cost structure of PulteGroup
The consolidated cost for PulteGroup (PHM) was at $5.1 billion for fiscal 2014, almost at the same level as in 2013. The cost of homes sold comprises 84.4% of the company's total costs, followed by SG&A (sales, general, and administrative) with 13%, and financial services expenses with 1.4%. In response to market conditions over the past few years, PulteGroup (PHM) restructured its operations, including significant reductions in employee headcount and overhead costs. Employee count was reduced from 12,400 in 2006 to 4,149 in 2014.
Article continues below advertisement
Cost of homes sales
Cost of homes sold was almost flat at $4.34 billion in 2014 compared to $4.31 billion in 2013. Cost of homes sold includes the cost of land acquisition, land development, and construction material costs like lumber, cement, and roofing product. The price of construction materials has increased over the years, which has hurt homebuilders. For example, concrete products prices are up 3.4% on a year-over-year basis, while iron and steel prices increased by 3.2% compared to the corresponding period last year.
Cost of homes sold as a percentage of total homebuilding revenue has been declining consistently from 90.1% in 2010 to 76.2% in 2014. This was due to an increase in average selling price and strict control over expenses. PulteGroup's cost of homes sold as a percentage of revenue is on the lower side compared to its major competitors, with the exception of Lennar (LEN) at 72.6%. D.R. Horton (DHI) and KB Homes (KBH) have a higher ratio at 78.1% and 81.2%, respectively.
Sharp rise in SG&A expenses
SG&A expenses as a percentage of home sale revenues were 11.8% in 2014 compared with 10.5% in 2013 and 11.3% in 2012. The SG&A expenses increased by 17% in 2014 to $668 million, hurting the company's bottom line. The sharp rise in SG&A expenses was partly due to expenses related to the relocation of the company's corporate headquarters to Atlanta from Michigan. The remaining cost could be attributed to the rise in employee count from 3,843 in 2013 to 4,149 in 2014.
Investors looking for diversification in the homebuilding sector can get exposure in homebuilding ETFs such as the SPDR S&P Homebuilders ETF (XHB) and the iShares Dow Jones US Home Construction Index Fund (ITB).