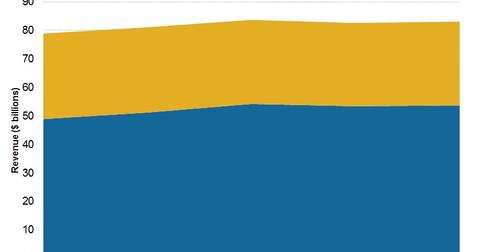 Procter & Gamble Eyeing Opportunities in Emerging Markets
By Penny Morgan

Updated
Overview of P&G's geographical presence
The Procter & Gamble Company, or P&G (PG), is a multibillion dollar consumer packaged goods company. An average American consumer spends $110 per year on P&G products.
P&G has operations in about 80 countries and sells its products in more than 180 countries. The company has 35 manufacturing plants handling production around the world.
P&G reports revenue from five regions. The five regions and their revenue share for fiscal 2014[1. Year ending June 30, 2014] are as follows:
North America – 39% of total revenue
Western Europe – 18% of total revenue
Asia – 18% of total revenue
CEEMEA (Central and Eastern Europe, Middle East, and Africa) – 15% of total revenue
Latin America – 10% of total revenue
The revenue generated from the US alone accounts for 35.4% of the firm's total revenue. The rest is from international business. No individual country other than the US generates more than 10% of total revenue.
Article continues below advertisement
Growing international markets
Organic revenue grew by 1% or more in all segments of emerging markets in 3Q15, except for in the Beauty segment. Growth was driven by innovations and pricing in developing markets.
For example, the rollout of the Flexball innovation, the launch of Venus Swirl, and compact liquids—Tide and Gain—have led to expansion in the Middle East, Africa, and Asia. Also, innovation in the Always brand has expanded P&G's market in the UK, France, the Netherlands, Belgium, and developing markets.
Competitors Unilever (UL), Colgate-Palmolive (CL), and Kimberly-Clark (KMB) also depend on innovation and pricing to capture opportunities in emerging markets. For example, Unilever is constantly changing the presentation, bottle size and pricing of its AXE male-grooming product, depending on the geography. Product innovations by Colgate toothpastes are also driving greater penetration in the emerging markets of Asia, Africa, and South America.
Future outlook
Rising wage levels in the mid-income population group has led to increasing demand for household products in emerging and developing markets. Certain risks of political instability, labor disruptions, and vulnerability due to poor infrastructure affect P&G's decisions with respect to where to focus its efforts. Currently, it focuses on ten emerging market economies:
Brazil
China
India
Russia
South Africa
Mexico
Nigeria
Poland
This limited focus will help P&G tailor its marketing strategies and increase its market penetration.
As of June 27, 2015, P&G made up ~1.2% of the iShares Core S&P 500 ETF (IVV).