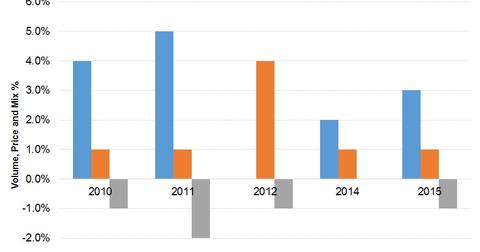 Procter & Gamble Benefits from A.G. Lafley's Return as CEO
By Penny Morgan

Updated
Overview
The Procter & Gamble Company, or P&G (PG), serves approximately 4.6 billion people around the world with its household products. The company has one of the strongest brand portfolios. Best-selling brands include Tide, Pampers, Olay, Pantene, Crest, Febreze, and Gillette, among others.
In 2013, the company reappointed former CEO A.G. Lafley. Lafley was CEO from 2000 to 2009. He was brought back primarily to revive sales and profitability, which had waned under Bob McDonald.
Article continues below advertisement
Initial tenure
During Lafley's initial tenure as CEO between 2000 and 2009, P&G bought Gillette in 2005. It also turned the company into a major player in beauty products. Lafley's efforts with Head & Shoulders, Olay, and Wella saw them join Pantene as beauty brands clocking over a $1 billion in annual sales.
As well as making acquisitions, P&G divested considerable assets during the same time frame. This got the company out of the slow-growing Crisco vegetable oil, Jif peanut butter, Folgers Coffee, and Sunny Delight fruit drink businesses.
Lafley doubled the company's sales during his initial tenure. He's also credited with increasing the number of P&G's billion dollar brands from ten to 23. Free cash flow productivity rose 111% during this time.
Recent restructuring
Since his return in 2013, Lafley's focus has been on strengthening core products through innovation and disposing of the rest. He plans to cull as many as 100 brands from P&G's portfolio to bring about a turnaround. For example, P&G has exited the pet food business, selling most of Iams, Eukanuba, and Natura brands to candy bar and Pedigree-maker Mars for $2.9 billion.
Following the P&G sale, global competitor Unilever (UL) disposed of its Ragu pasta sauce to focus on its core strengths, taking a page out of Lafley's playbook.
Lafley moved to close the gap between P&G's high prices and those of competitors such as Colgate-Palmolive (CL) and Kimberly-Clark (KMB). He also introduced new low-price products such as Tide Simply Laundry detergent. All tolled, these strategies helped the company with its turnaround.
Some of P&G's Beauty segment brands may have been divested at an auction, according to a report in the New York Post. For more on this, read Coty Wins 3 Auctions for P&G Beauty Brands: A Win-Win Deal?
In fiscal 2014, P&G reported ~$150 million in divestiture gains, primarily the result of selling its bleach business and the Pert hair care business.
P&G makes up ~1.2%[1. All ETF portfolio weights are as of June 27, 2015] of the iShares Core S&P 500 ETF (IVV).