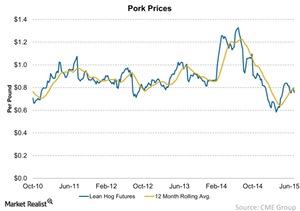 Why Are Pork Prices Stabilizing?
Pork prices
Pork is another commodity widely used in many restaurants in the United States. Pork prices have dropped significantly in 2015 from the high of $1.38 per pound in June 2014 to the low of $0.65 per pound in March 2015.
In 2015, pork prices hit a five-year low, indicating an oversupply of pork in the market. As of the week ended July 24, 2015, pork current futures were trading at $0.75 per pound, down from $0.80 per pound a week ago.
Article continues below advertisement
Previously, pork prices went up as a result of a shortage in pork supply. The shortage was a result of culling hogs infected with PEDV (porcine epidemic diarrhea virus). Prices started falling toward the end of 2014 and into 2015 as the effect of the virus started subsiding and pork supplies started to replenish. As of June 2015, the inventory of all hogs and pigs increased 9% to 66.9 million head year-over-year.
Impact and outlook
Restaurants such as Taco Bell under the umbrella of Yum! Brands (YUM), McDonald's (MCD), and Wendy's (WEN) use pork in various menu items, including bacon and sausage. Falling pork prices come as a relief to these restaurants. Usually, restaurants don't reduce menu prices, so a price increase coupled with falling commodity prices should benefit their margins.
The Consumer Discretionary Select Sector SPDR Fund (XLY) should also benefit from these improving prices. XLY holds 4% of McDonald's (MCD) and 3% of Starbucks (SBUX).
Pork prices are down about 30% compared to last year. The USDA (U.S. Department of Agriculture) Economic Research Service predicts that pork wholesale prices will fall from 15% to 14% in 2015.