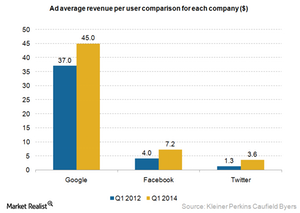 Why PLAs Could Hurt Google's Search Ad Business
By Puneet Sikka

Jul. 14 2015, Published 11:36 a.m. ET
PLAs hurt luxury retailers and Google search business
In Part 1 of this series, we discussed the changes that Google (GOOG) made to its product listing ads (or PLAs) business. We also discussed how PLAs have proven to be a successful product for Google, providing Amazon (AMZN) and eBay (EBAY) with stiff competition in the e-commerce market.
PLAs serve as a convenient tool for consumers looking to purchase the least expensive product. However, the same cannot be said about other retailers—especially luxury retailers. Showing prices and how much less expensive a product is compared with the average can drive retailers to reduce their prices, which does not bode well for their bottom lines.
Article continues below advertisement
Such a trend can also have an impact on Google's search ad business. According to a July report from the Wall Street Journal, citing ChannelAdvisor executive chairman Scot Wingo: "Wingo speculated that some retailers may choose to cut prices in hopes of gaining the notation, while cutting their bids on product ads. That would mean less money for Google but better prices for users of its shopping service, he said."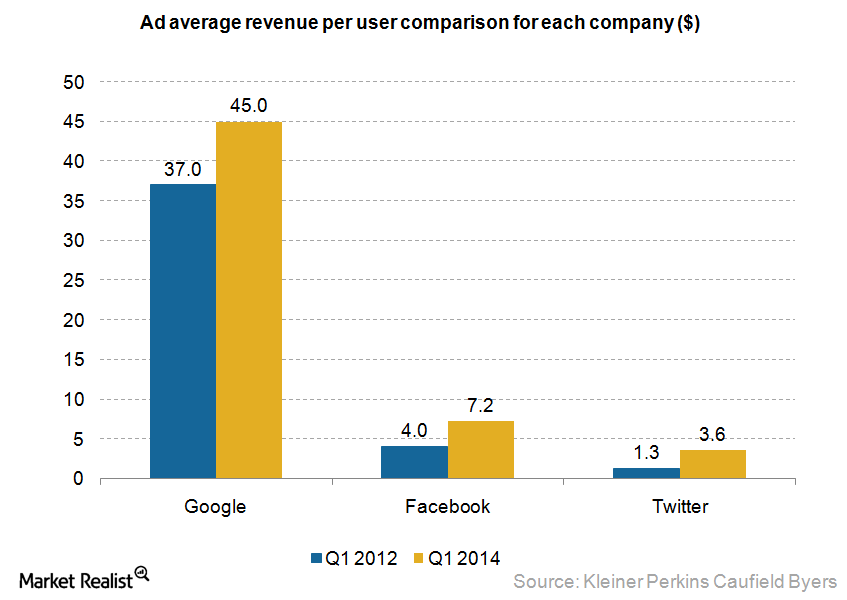 Search ads command higher rates
The search ad business is the most lucrative business for Google because search ads command higher ad rates. Google can justify the ad price premium because a user coming to Google's search platform is looking for something specific. This allows the advertisements to easily target a user's specific search query. However, this isn't the case with display ads.
According to venture capital firm Kleiner Perkins Caufield Byers, Google Ads' average revenue per user (or ARPU) is around $45. As shown in the above chart, the same metric for Facebook (FB) is $7.20 and $3.60 for Twitter (TWTR) as of 1Q14. This indicates that ad rates for Google are about six times higher than Facebook's and 12 times higher than Twitter's. Hence, PLAs could potentially hurt Google's lucrative search business.
For diversified exposure to Google, you can consider investing in the PowerShares QQQ Trust, Series 1 ETF (QQQ). QQQ invests 3.5% of its holdings in Google.