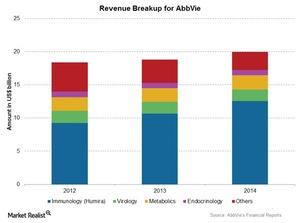 Pharmaceuticals: AbbVie's Only Business
By Mike Benson

Updated
Business segments
AbbVie (ABBV) is a global, research-based biopharmaceutical company that focuses on pharmaceuticals. Its existing products, as well as those products that are still in the pipeline, are concentrated in the following therapeutic areas and medical specialties:
immunology – ~63% of total revenues in 2014
virology or liver disease – ~9% of total revenues in 2014
metabolic and hormonal products – ~11% of total revenues in 2014
endocrinology – ~4% of total revenues in 2014
oncology, renal diseases, neurological diseases, and women's health – together contributed ~13% of total revenues in 2014
Article continues below advertisement
Key products and therapies
AbbVie's product portfolio includes therapies that address the most complex and serious diseases around the globe.
One such product is Humira, a biological therapy administered as a subcutaneous injection. It's approved to treat multiple types of arthritis in the US, Europe, and 60 other markets. Humira accounted for 63% of AbbVie's total revenues in 2014. The patent for Humira's adalimumab compound is expected to expire in December 2016 in the US and in April 2018 in the majority of European Union countries.
Viekira Pak, an all-oral, short-course, interferon-free therapy is used to treat adults with genotype 1 chronic hepatitis C virus. Viekira Pak was approved by the FDA (US Food and Drug Administration) in December 2014. The European Commission granted marketing authorization for the treatment in January 2015.
Other virology products include Kaletra, Norvir, and Synagis. Kaletra and Norvir are used for the treatment of HIV (human immunodeficiency virus) infection while Synagis is used to prevent respiratory syncytial virus infection in high-risk infants.
Metabolic and hormone products include AndroGel, Creon, and Synthroid. AndroGel is a testosterone replacement therapy for males with low testosterone levels. Creon is a pancreatic enzyme therapy for exocrine pancreatic insufficiency. Synthroid is used in the treatment of hypothyroidism.
Endocrinology products include Lupron which is used to treat advanced prostate cancer, endometriosis, and central precocious puberty.
Other products include Duopa and Duodopa, used to treat Parkinson's disease, Sevoflurane, used as an anesthetic, and TriCor, Trilipix, Niaspan, Simcor, and Advicor, used to treat Dyslipidemia. AbbVie's Zemplar is used to treat secondary hyperparathyroidism associated with chronic kidney disease.
Investing in pharma
The Health Care Select Sector SPDR Fund (XLV) invests in the pharmaceutical sector. It has ~9.5% of its portfolio invested in Johnson & Johnson (JNJ), ~7.3% in Pfizer (PFE), and ~5.7% in Merck (MRK). Investors can choose other ETFs such as the iShares U.S. Healthcare ETF (IYH) for diversified exposure to pharmaceutical and healthcare companies.