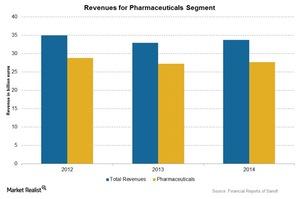 The Pharmaceutical Division Is Sanofi's Largest Segment
By Mike Benson

Jul. 22 2015, Updated 9:07 a.m. ET
Pharmaceutical segment
As discussed earlier, Sanofi (SNY) is a group of companies that focus on the pharmaceuticals, human vaccines, and animal health segments. Of these segments, the pharmaceutical segment contributed over 82%, or ~27.7 billion euros, towards Sanofi's total revenue in 2014.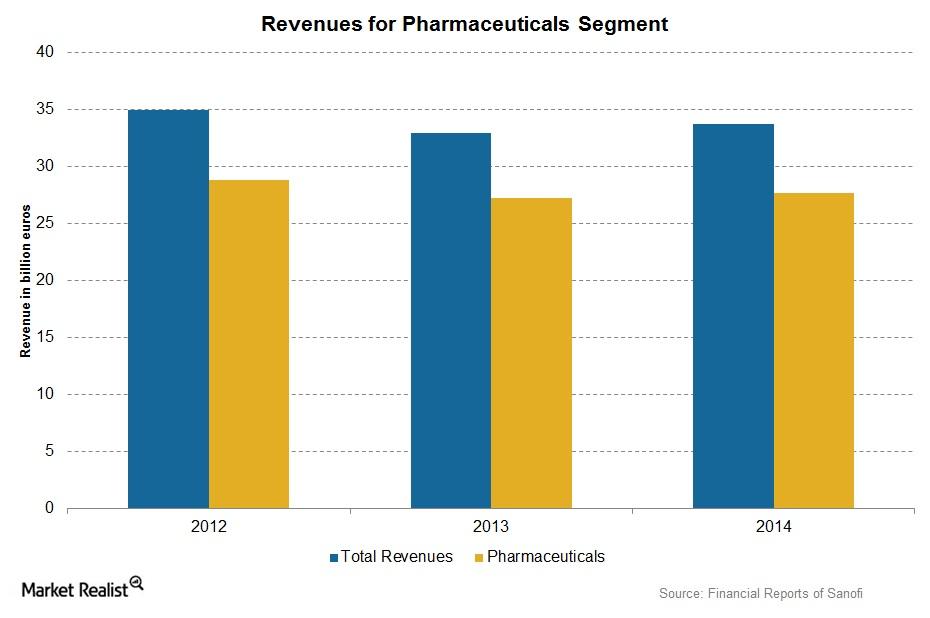 Article continues below advertisement
Understanding key products
Sanofi recorded direct sales of over 1 billion euros for the following pharmaceutical products in the last year:
Lantus: over 6 billion euros
Plavix: over 1.8 billion euros
Lovenox: over 1.6 billion euros
Lantus is a long-acting human insulin used to treat type one and type two diabetes, and is available in more than 120 countries. Plavix is an anticoagulant used to keep the platelets in the blood from coagulating or clotting and prevents unwanted blood clots that can occur in heart or blood vessels. Lovenox is also an anticoagulant used to treat or prevent a type of blood clot called deep vein thrombosis, which occurs after certain types of surgery, and to prevent blood vessel complications from angina or heart attack.
Research and development
Sanofi's research and development (or R&D) activities are organized into three major segments in line with the business segments. For the pharmaceuticals segment, Sanofi Pharma R&D is focused on the development of human medicines. Sanofi Pharma R&D is a project-driven organization that includes three major units: diabetes, oncology, and Genzyme.
Sanofi has seven NMEs (new molecular entities), or drugs that contain an active compound that hasn't been approved by the FDA yet, under phase three and registration for the pharmaceuticals segment. Of these, one NME for cardiovascular/renal disease is under registration. The remaining six NMEs are for diabetes solutions, immune mediated diseases, and rare diseases.
Other companies like Pfizer (PFE), GlaxoSmithKline (GSK), Bristol-Myers Squibb (BMY), and AstraZeneca (AZN) compete with Sanofi on different product mixes like oncology and cardiovascular drugs. The Health Care Select Sector SPDR ETF (XLV) is focused on the pharmaceutical segment.