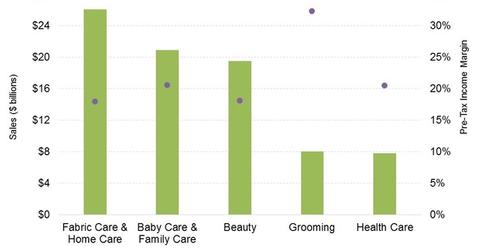 Procter & Gamble's Core Portfolio: What's Left after Brand Exits?
By Phalguni Soni

Updated
Profitability impact of the 43-brand sale to Coty
The 43 brands in Procter & Gamble's, or P&G's (PG), Beauty segment that are part of a proposed merger with Coty (COTY) fall under four categories:
the retail hair color business
the cosmetics business, including drugstore makeup brands CoverGirl and Max Factor
the fine fragrance business, including Hugo Boss and Gucci
the global salon professional hair care and color business
Article continues below advertisement
Beauty brands analysis
Sales in P&G's Beauty segment have been essentially flat at $19.5 billion over the past three years, between fiscal 2012 and 2014.
Exiting these businesses is likely to improve P&G's profitability. The 43 brands under consideration generated EBITDA (earnings before interest, taxes, depreciation, and amortization) of ~$0.7 billion on sales of $5.9 billion in fiscal 2014.[1. Fiscal year ending June 30, 2014] That works out to an EBITDA margin of 11.9%, barely half of the 22.2% earned by P&G overall in fiscal 2014.
Market leadership focus
But P&G hasn't divested all of its beauty brands. The company has said that its remaining Hair Care, Skin Care, and Personal Care brands will be the subject of its future focus on maintaining market leadership.
These brands include Olay, Pantene, and Head & Shoulders. All three are billion dollar brands. Olay is the number one facial skincare brand, with an 8% market share worldwide. The company's a leader in retail hair care, largely on the basis of Pantene and Head & Shoulders sales. Head & Shoulders has annual sales of ~$2.8 billion.
P&G's remaining portfolio
P&G has also stated that this would effectively conclude the brand culling strategy announced last year. There are exit options in place for about 93 brands now out of a possible 100 considered. These represent ~60% of the brand portfolio, accounting for about 15% of P&G's sales and 5% of pretax profit.[2. As per comments provided by Jon Moeller, P&G CFO, at a conference call]
Following the sale, the company will be left with ~65 brands. These account for 85% of sales and 95% of pretax profits. P&G clocked pretax income of ~$14.9 billion on sales of ~$83.1 billion in fiscal 2014. The divestments would enable P&G to focus on these faster-growing, market-leading, and more profitable businesses.
The brand exits, which include the Duracell deal with Warren Buffet's Berkshire Hathaway (BRK-B), will lead to changes in P&G's capital structure as well. That's discussed further on in the series.
As S&P 500 Index components, P&G and Berkshire Hathaway (BRK-B) are part of the portfolio holdings of the SPDR S&P 500 ETF Trust (SPY), with weights of 1.2% and 1.4%, respectively. The iShares Core S&P 500 ETF (IVV) provides similar exposure to both companies.