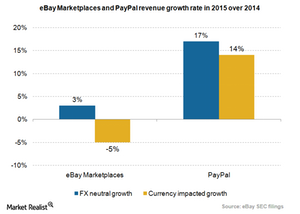 PayPal Getting Ready for Competition as It Separates from eBay
By Puneet Sikka

Updated
eBay and PayPal are nearly separated
In Part 3 of this series, we discussed how PayPal continues to acquire companies to make itself a strong entity in the online payments space. PayPal and eBay (EBAY) are now on the verge of completing their separation, which should happen on July 17. Both eBay and PayPal have agreed to abide by certain rules after the separation. We discussed this aspect in our article, eBay and PayPal Will Be Tightly Integrated Even after the Split.
Article continues below advertisement
This split was influenced by the difference in growth trajectories of the eBay Marketplaces business and PayPal. As the chart below shows, eBay expects its Marketplaces currency adjusted revenue growth rate to be -5% in 2015 over 2014. Comparatively, the company expects PayPal's currency adjusted revenue growth rate to be 14%. The strong US dollar (UUP) has made the situation worse for eBay's Marketplaces business.
Increased competition in mobile payments space
PayPal is now taking the inorganic route to improve its technology. In the previous part, we discussed PayPal's recent major acquisitions, which includes Xoom (XOOM), Paydiant, and Braintree. By acquiring these companies, PayPal is being proactive as it expects competition in the mobile payments space to increase.
Google (GOOG) launched its revamped Android Pay mobile payment service at its I/O conference a few weeks back. During this event, Google announced that it won't charge any fees to bank issuers for mobile transactions through Android Pay.
This development from Google comes as a threat to both Apple (AAPL) and PayPal. Apple currently charges 0.15% of the value of each credit card transaction to banks for its Apple Pay service, and it may now be forced to forgo these fees. Other than Google, Microsoft (MSFT) is another emerging player in this market. Microsoft has recently entered the mobile payments platform space. Although the company hasn't made any product announcements, its Windows 10 platform now enables mobile payments.