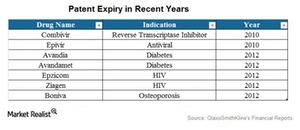 Patent Expiry and Its Effects on GlaxoSmithKline's Revenues
By Mike Benson

Jul. 16 2015, Updated 9:05 a.m. ET
Patents and expiry
GlaxoSmithKline (GSK) deals in innovative pharmaceuticals, and over 80% total revenues are contributed by pharmaceuticals and vaccines. Patents are the protection to intellectual property, authorized by the government or licensing authority (the FDA in the US), which prevents other competitors from manufacturing or marketing the patented products over a specific period of time.
This is the reason that patented products make up over 70% of total drug revenues in general for large pharmaceutical companies, and these companies spend around 15%–20% of revenues each year for research and development. Once off-patented, the companies lose a major revenue stream for a specific drug.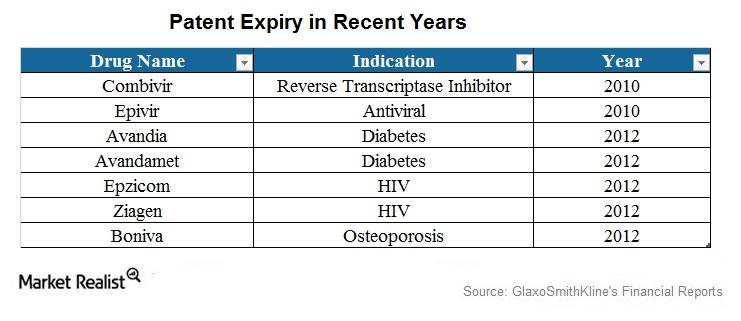 Article continues below advertisement
Patent expiry for GSK
The major patent expiry of drugs in last few years are listed above. GlaxoSmithKline lost exclusivity on Combivir, a reverse transcriptase inhibitor (respiratory drug) and Epivir, an antiviral, in 2010; Avandia and Avandamet for treatment of diabetes, Epzicom and Ziagen for HIV, and Boniva for Osteoporosis, in 2012. Apart from these, the company also lost its patent dispute on Lovaza, a cardiovascular drug, in 2014.
GlaxoSmithKline is expected to lose exclusivity on Avodart, a drug for benign prostatic hyperplasia in November 2015, after which the revenues may fall from an estimated $450 million in 2015 to ~$80 million in 2016.
Exception
GlaxoSmithKline's Advair is prescribed for chronic asthma and chronic obstructive pulmonary disease (or COPD). Advair's patent expired in 2009 for US markets and in 2013 for EU markets. It is known by several other names like Seretide, Viani, Adoair, and Foxair in various markets. It is a complex, difficult-to-replicate drug despite its patent expiry, so GlaxoSmithKline still holds control over the production of Advair.
Companies like Teva Pharmaceutical Industries (TEVA), Merck (MRK), Pfizer (PFE), and others face similar patent expiry risks for their patented products. MRK forms about 6.4% of the total assets of the Health Care Select Sector SPDR ETF (XLV).